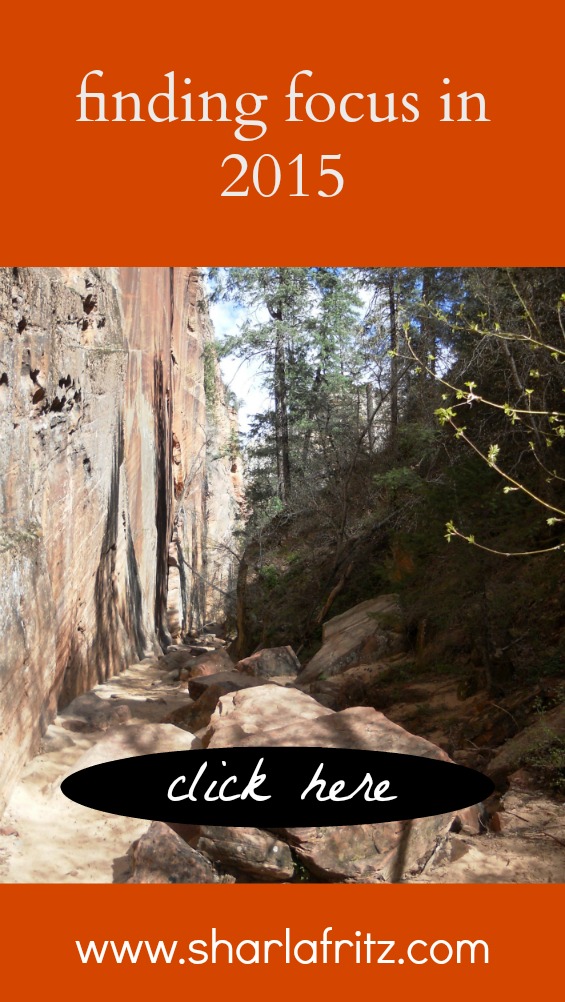 For the past few years, I have chosen a word for each new year. A word to guide my soul through the next twelve months. A word to challenge and stretch me.
Last year my word was give. I wanted to become a more giving person. During 2014, I found a new place to give–Lifespring Ministries. This ministry in my hometown is a Christ-centered transitional living program for homeless women who want to get their lives back on track. I gave time by answering phones, tutoring, and just hanging out with these amazing women. And honestly, I received much more than I gave.
But looking back over the past year, I don't think I gave more of my time or money than in other years. Rather, I learned how to be a more cheerful giver. When others asked me to give and I could give, I said "yes" with joy. I gave without resentment or regret.
Unfortunately, all of that saying "yes" led to another problem–feeling overwhelmed and burned out.
So when deciding my word for 2015, I thought about the words "no" and "never" and "no way" (oops that's two words).
But that isn't what I want either. I don't want to say "no" to everything. I want to say "no" to what is superfluous. I want to say "no" to those things that are life-draining. I want to say "no" to whatever is not in God's plan for my life.
So my word for 2015 is:
focus
I want to learn to focus on what is important–what God thinks is essential–and let everything else fall away.
I know this isn't going to be easy. I have a hundred projects I'd like to complete. I tend to make impossibly long to-do lists. I can easily be swayed by the "experts" that say I must do this and I need to complete that.
I can easily lose my focus.
The first Bible verse that came to mind when I decided on the word "focus" was Luke 10:41-42.
But the Lord answered her, "Martha, Martha, you are anxious and troubled about many things, but one thing is necessary. Mary has chosen the good portion, which will not be taken away from her."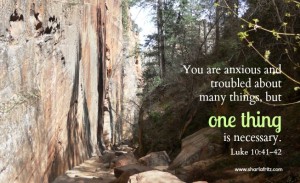 I know–it's the passage we've heard a thousand times. Most of us feel guilty that we are not more like Mary–sitting at the Master's feet. But let's "focus" on two words in the passage.
One. Thing.
I am going to start each day of 2015 asking the Great Teacher a question: "What is the one thing you want me to accomplish today?"
There may be other things on my to-do list, but I will feel I have done what is important if I have accomplished that one thing.
Question: What is your word for 2015?