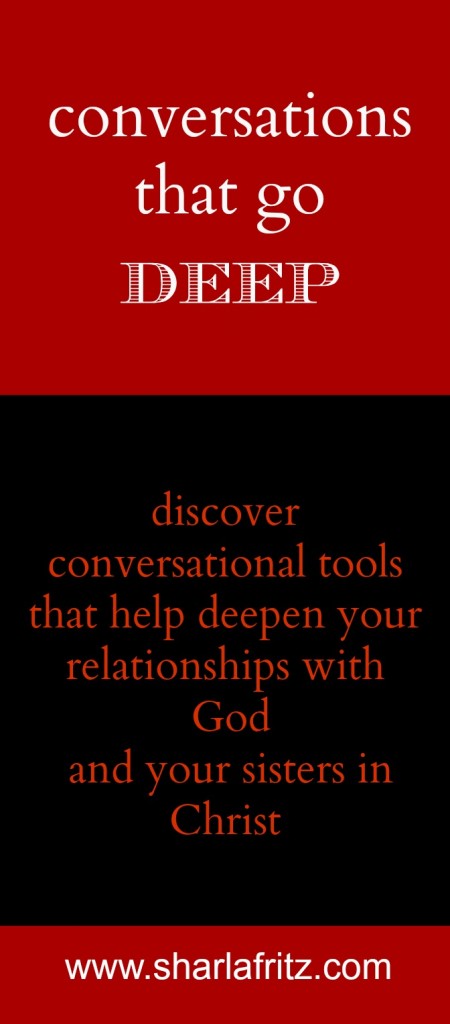 Every woman longs to be heard, seen and fully known by other women. One of the best ways to encourage this kind of discovery is through conversations that matter.
quote from Listen In: Building Faith and Friendship Through Conversations That Matter
We all want relationships that go deep. Yet too often our conversations stay on the surface. We talk about what preschool we chose for our three-year-old. We exchange opinions on the latest movies. We share what we're making for dinner tonight. But we don't always talk about the hurts in our hearts or the painful circumstances that have shaped our souls.
The book: Listen In wants to change that. It is a unique book that allows us to actually listen in on the deep conversations between three friends. The authors–Rachael Crabb, Sonya Reeder, and Diana Calvin–help each other grow closer to God through authentic communication combined with thoughtful listening and gentle questions.
The authors encourage us to:
Imagine conversations that draw you deeper into relationships that lovingly stir repentance, that open doors to experiencing more of God's mercy and grace, and that awaken you to the thrilling awareness of the beauty his amazing grace has already placed deep in your being.
The book is written in conversational form. We are like a fly on the wall as each woman takes a turn at telling about a significant event in her life–one that has had a hand in shaping her identity. The other two women listen intently and ask questions like: "What did you grow up believing about yourself?" "What were you thinking in your internal world?" "How have you repented?" "Where are you now?"
Each conversation leads to a revelation of a broken place in one woman's life. Through loving questions and support, the conversations uncover a redeeming grace that has come out of the brokenness.
These are the kinds of conversations we'd all like to have with our best friends over steaming cups of tea. The book is designed to help all of us do that. The authors outline five key ingredients to meaningful conversations:
Identify an intentional purpose.
Tune in to present experience.
Be curious and offer feedback.
Explore shaping events.
Create a vision.
The book is laid out in a format conducive to small group participation. Six chapters of readings and discussion questions could mean six weeks of learning and experiencing your own meaningful conversations.
One quibble about the book. I wish the introduction had given more information about the process. In particular, I didn't catch on right away that there were three main conversations explored in the book and that each conversation began with one of the women sharing a painful event in her life. I would have found that information helpful from the beginning, but perhaps the authors wanted the reader to experience the conversations as they happened without knowing details in advance.
Overall, I think the book does an excellent job at encouraging women to go beyond surface relationships and giving us the tools to do just that.
Listen In is a wonderful resource for women who want to deepen their relationships with God and their sisters in Christ. 
Listen In: Building Faith and Friendship Through Conversations That Matter is available here.