Not long ago I met with a group of women hungry for God's transforming power. We met often one summer, exploring spiritual disciplines–spiritual practices that have been used by devout Christians for centuries. Reading about these exercises and practicing them with this small group helped me to grow deeper in my relationship with God. I learned to slow down my frenetic pace of life long enough to listen to what God wanted to say to me. I discovered fresh ways to pray. I began to see God's hand at work in my ordinary days. I wondered: Why had it had taken me so long to discover these spiritual disciplines?
One day shortly after I finished that study, I was searching for a book for a writing project. As I scanned my bookshelves, I was surprised to find two books about spiritual disciplines! I pulled them out and leafed through them. I had evidently read them because many passages were underlined. Why had these books not had the same impact on my relationship with God as my summer experience with spiritual disciplines?
As I reread the underlined passages, I saw the difference. When I had read the other books  years earlier, I somehow got the idea that spiritual disciplines were something I did to become more spiritual. At that point in my life I looked at the disciplines as a formula for becoming a better Christian. Take a little meditation, add a little worship, and mix in some solitude and I would be more acceptable to God.
It's easy to see how I could come up with that idea. Spiritual disciplines sound like self-discipline mixed with some very devout and religious work. But we do not practice the spiritual disciplines to look more spiritual. These exercises are not designed to make you more disciplined. The reason my most recent experience with spiritual disciplines was different was that the purpose behind them was not to make me a super Christian, but to foster intimacy with God.
Adele Calhoun writes in her Spiritual Disciplines Handbook:
Disciplines are intentional ways we open space in our lives for the worship of God. They are not harsh, but grace-filled ways of responding to the presence of Christ with our bodies.
So don't think of spiritual disciplines as something you have to work hard at. Or something that depends on you.The purpose of the spiritual disciplines is not to produce super-Christians, but to foster intimacy with God. Click To Tweet
Picture each spiritual discipline as a room in a spa where you can go to meet God. In this room He will accept you with open arms and lavish you with love. He will transform you. He will take your weary and tired soul and, in His presence, give it new life.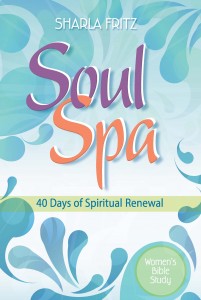 To find out more about spiritual disciplines check out my new book, Soul Spa.
To find out more about caring for your soul, sign up for my Soul Spa Kit on the right hand side of this page.