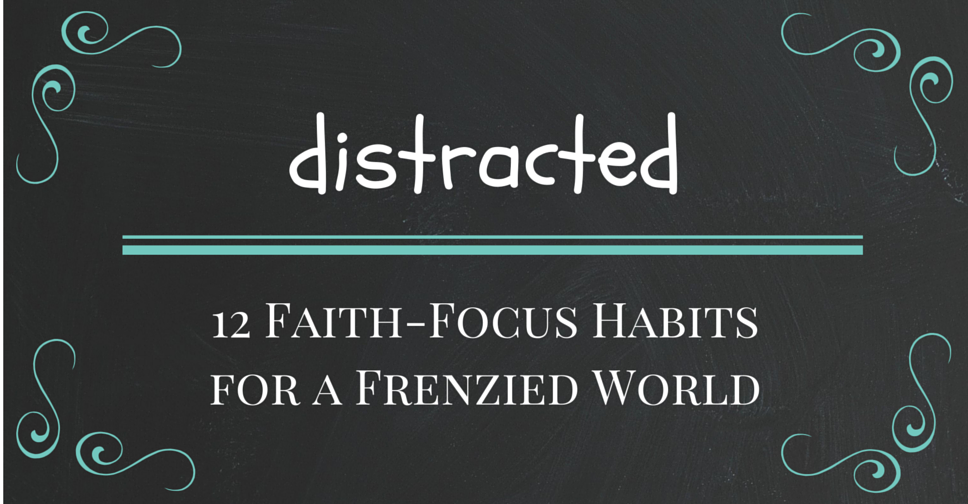 In this modern world, it's easy to live distracted. In fact, it's difficult not to be sidetracked by the myriad of things clamoring for our attention. We feel pressured to have more, do more, and be more. And yet with all this doing and having, we still feel unfulfilled. In the quest to have it all, we wonder if we have missed something important. We sense that we have been spending too much time and effort on the trivial and not enough on what really matters.
I struggled with distraction for years. Then a life crisis hit–my husband was diagnosed with lymphoma. During this difficult season God taught me some important lessons. Through a series of small changes I learned to live a less frenzied life and a more focused life.
You don't have to wait for an emergency to learn how to defeat distraction. My Distracted eCourse teaches 12 Faith-Focus Habits I learned during our crisis.  In this course you will learn both the spiritual habits and practical tactics I used for finding focus. You don't have to continue living a side-tracked life.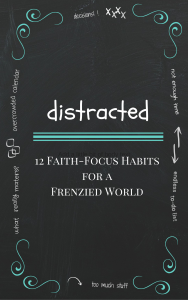 Distracted will teach you how to:
find focus by connecting to God

truly pay attention to what is essential

prioritize your day

find focus in your work

make important choices

defeat the distractions of technology

find rest in our hectic world
Note: this is NOT a course on how to get more organized. It is more like a course to help you finally do what God is calling you to do rather than what the world is screaming you should do. It's developing habits that help you hear God's voice and direction. Habits that help you eliminate the trivial and concentrate on the important.
When you sign up for this course you will receive a series of email lessons in your inbox. First an introductory message will arrive. Then once a week for the next 12 weeks you will receive a message about finding focus. The message will contain a short lesson and an assignment. Each lesson will take about 15-30 minutes. The rest of the week you will put the new habit into practice.
Sign up now and you will also receive a bonus lesson that will help you continue to ditch distraction even after the course is finished.
Click here for more information and to buy the course.

And if you would like to sample this course, check out the FREE lesson that shares the one habit that changed my life more than any other. 
This five-page lesson will help you:
Discover the one Faith-Focus Habit that can immediately make a difference in your daily peace and clarity.
AND
Take the first step toward living out God's plan for your life and ignoring all the trivial paths that side-track you from your true purpose.
Click on the button below to get this FREE lesson: