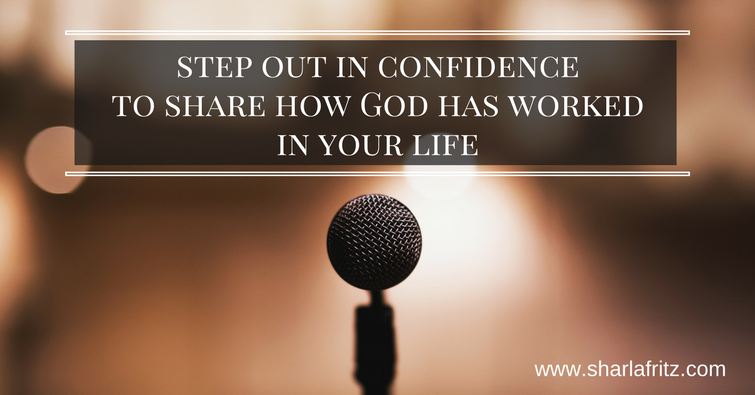 How do you use your gifts and talents? Do you use your musical talents when you sing in the choir? Do you use your organizational gifts as Sunday School administrator? Do you use your flair for hospitality by opening your home for Bible studies?
God has given each of us unique gifts.  
Maybe you have a gift for speaking. Do you love to share how Christ has changed your life? Do you like to dive into Scripture and then share the truths you have learned?
If so, perhaps you would like to develop your speaking gifts with a helpful online course. 
A decade ago. I began speaking for an international organization. I was simply sharing my story–telling others how God had transformed my life. It seemed a simple task.
But at first, I was terrified. I hung onto the podium for dear life. I didn't stray from my notes. I rarely made eye contact.
Now, however, after presenting in front of audiences for ten years, I can truthfully say that public speaking is one of the most energizing and satisfying experiences of my life.
So I decided to share what I learned during a decade of sharing God's love in my story. Hopefully, my experience will help you step out in confidence to share how God has worked in your life.
With the help of the Women's Leadership Institute and Concordia University Wisconsin, I developed a course on Christian speaking. This course has three parts:
Passionate Presentations–7 Steps to Speaking from the Heart
Dazzling Delivery–7 Steps to Clearly Communicating Your Message
Basic Business–7 Things I Wish I Had Known When I Started Speaking
Each learning engagement has a 30-minute video presentation and a short quiz at the end to assess your retention. The courses are reasonably priced and easy to implement.
If you would like more information on this course please go to the Women's Leadership Institute Online Academy page or check out the course on the Concordia University page.
May God bless you as you step out to share His love with others!
Please note: I do not benefit from the purchase of this course. Proceeds go to Concordia University Wisconsin