Joy.
This word has been rolling around in my head for awhile. It all started a few years ago when my husband and I traveled to China to visit my daughter and her family. One day we decided to take a trip to visit the Stone Forest–a beautiful Chinese national park. My daughter and her husband don't own a car in China, so we hired a driver to take us to this amazing park. On the way, the driver stopped at a gas station. The driver was already getting ready to drive away when I noticed the sign for the convenience store. I asked my husband to get a quick picture through the car window with his big zoom lens. The name of the store was: Easy Joy.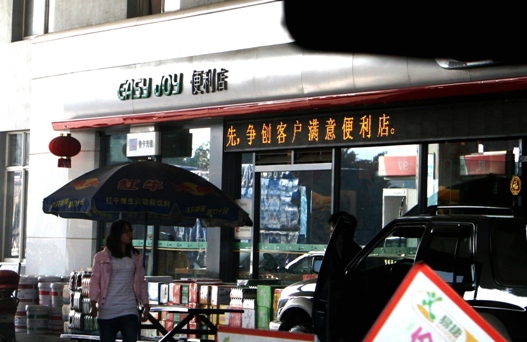 I wondered if this name was an example of Chinglish–the awkward and often humorous translation of Chinese into English. Maybe the concept they were really going for was something like Simple Pleasures, but I loved the idea of a store named Easy Joy. Wouldn't it be great if there was an Easy Joy store in every town and city across America and when you got low on joy all you had to do was drive down to the shop and pick up a can of joy? When you faced a disappointment, you could buy a box of happiness? When you suffered a painful loss, all you had to do was purchase a jar of bliss?
Even though I am certain that no such shop exists, the concept of an Easy Joy Store got me thinking about joy and happiness. I wondered: What does the Bible have to say about happiness? Is there a biblical way to get Easy Joy?
One of the first things I discovered was that God wants us to have joy!
Jesus said,
"These things I have spoken to you, that my joy may be in you, and that your joy may be full." (John 15:11 ESV)
That word full means to supply liberally, to fill to the top. God doesn't want us to simply have a drop of joy in our lives, He wants our hearts to be overflowing with joy. He wants our souls to be bursting at the seams with His gladness.
This is reassuring to me because I thought perhaps my quest was shallow. Life on earth is definitely not guaranteed to be a continual ball of fun. I wondered if God wanted me to seek something deeper.
But God does not consider this search superficial. He wants us to have joy–His joy.
So I began to explore this concept. I searched for answers to the questions:
Is there a biblical way to have Easy Joy?
What does God's joy look like?
How can I have more joy in my life?
What are the secrets to a joy-filled life?
The result of my search is a new eCourse titled Easy Joy: 12 Places to Find Joy in a Discouraging World. In this course, I share that joy can be found in some surprising places. Joy can be found in:
darkness
brokenness
choosing to trust
rituals
These are only a few of the places I found joy. Explore this course and you will discover even more.
When you sign up for this course you will receive a series of email lessons in your inbox. First, an introductory message will arrive. Then once a week for the next 12 weeks you will receive a message about finding joy. The message will contain a short lesson and an assignment. Each lesson will take about 15-30 minutes. The rest of the week you will put the new knowledge into practice.
Sign up now and you will also receive a bonus lesson that will help you continue to find joy even after the course is finished.
Don't you wish you could walk to the nearest Easy Joy store to buy a box of happiness when you're feeling blue?
While that isn't possible, you can find more joy for your life in God's Word. Find specific ways in the Easy Joy eCourse.
Click here for more information and to sign up for the course.