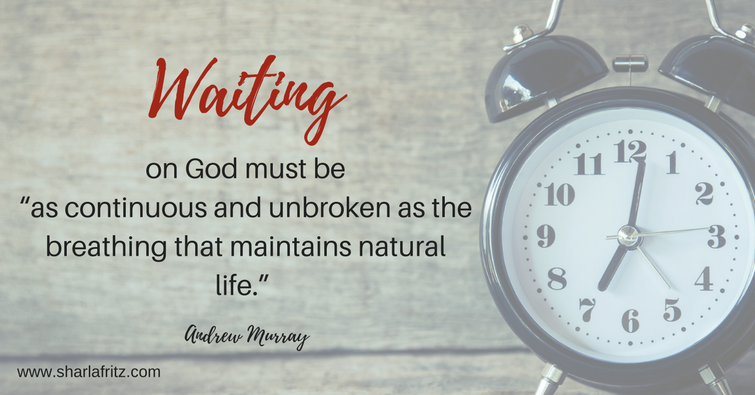 I hate to wait. I complain when I have to stand in a long line. I gripe when the service at a restaurant is slow. I grumble the answer to my prayer is delayed.
I want life to move along at my pace.
But recently, I was reading a book titled Waiting on God by Andrew Murray that changed my perspective on waiting. Murray, a South African pastor at the turn of the twentieth century, wrote:
If salvation indeed comes from God, and is entirely His work, just as creation was, it follows, as a matter of course, that our first and highest duty is to wait on Him to do the work that pleases Him.
When I first read that statement, I had to read it twice to totally take it in.
Waiting is our first and highest duty?
Ah, Lord. Just a minute here. I don't like waiting.
But after I thought about it, I realized Murray was right. We can't come to Christ on our own. Psalm 62:1 says:
For God alone my soul waits in silence; from him comes my salvation.
God gives salvation. We receive. God acts. We wait.
And thankfully, God does not make us wait long for His saving grace. We repent and admit our need for a Savior. Christ responds immediately.
Okay. We wait on God for salvation. However, my issue is with daily life. I balk at daily waiting. I often rush ahead, trying to accomplish tasks and solve problems on my own. How can I learn to love to wait?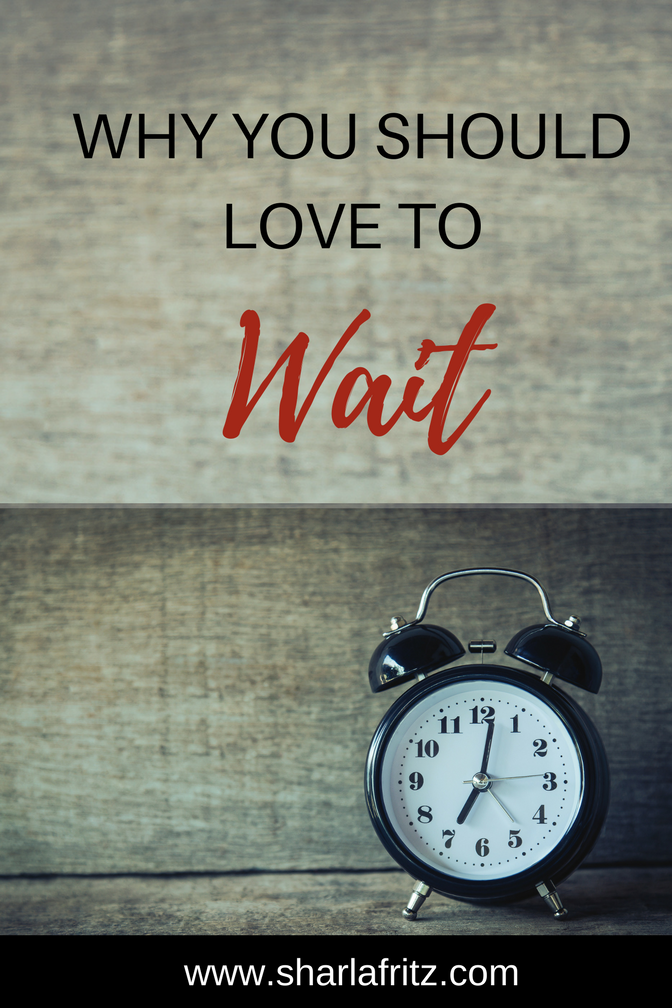 Andrew Murray writes that daily waiting on God is indispensable. He insists that it must be "as continuous and unbroken as the breathing that maintains natural life." Maybe if I realize this kind of waiting is an essential part of trust in a loving God, I can embrace it. Maybe if I remember continuous waiting is the key to a deep, perpetual fellowship with the Father, I can learn to love it.
Unbroken waiting. That's the waiting I want to learn. Waiting day to day for joy in God's presence. Waiting moment by moment for His guidance. Waiting second by second for reassurance of His love.
I know these are available because God promises these in His Word.
You make known to me the path of life; in your presence there is fullness of joy; at your right hand are pleasures forevermore. (Psalm 16:11)
If any of you lacks wisdom, let him ask God, who gives generously to all without reproach, and it will be given him. (James 1:5)
Satisfy us in the morning with your steadfast love, that we may rejoice and be glad all our days. (Psalm 90:14).
I only need to go to Jesus to receive them. I only have to stop long enough in my busy life to connect with the Savior. I only need to wait in expectation of His grace.
Next step: Take a moment to ask God for the ability to love to wait. Pray something like, "Lord, you know I balk at waiting. I want the answers to my prayers now. But I want to grow in trust and faith of Your goodness and wisdom. Help me to learn to love to wait on You.
My new book Waiting: A Bible Study on Patience, Hope, and Trust will be released on June 21! In this book you will find: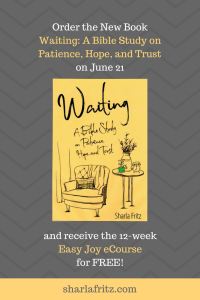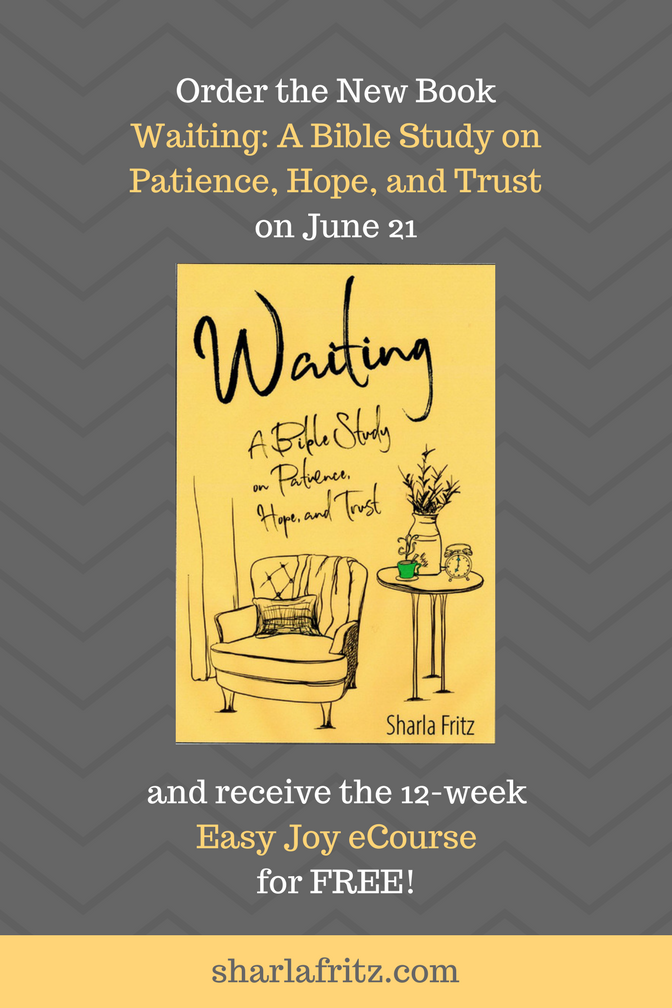 Eight chapters of readings that can be read straight through without doing the study guide
Study guide that takes you deeper into the topic
Ability to choose the amount of time you invest in the study.
Questions that take you into Scripture
Guidelines to help you apply the content to your life
Hands-on projects to help you internalize the lessons
Maps, timelines, and historical backgrounds to help you visualize the time period of each woman
This book will be available on June 21! Right now you can preorder here and receive some awesome freebies!
OR
You can buy the book on launch day, June 21, and receive my brand-new eCourse, Easy Joy, for free! (Find out more about the eCourse here.) If you buy the book on launch day between 8 am and 8 pm CDT, click here and enter your order number from CPH or Amazon and then receive the 12-week eCourse (a $15 value).