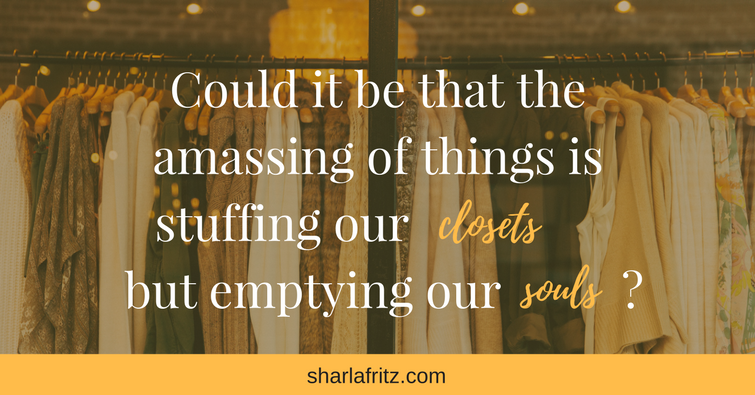 Why is contentment so difficult to attain? Why do we always want more? This post is part of a series on finding enough.
When my husband and I were first married, we moved all of our belongings into our first apartment by loading used furniture onto a borrowed snowmobile trailer. (Can you tell I'm from Wisconsin?) The next time we moved we needed a small U-Haul truck and the next time a bigger truck. Each time we moved we had acquired more things and needed a bigger truck to cart those belongings to a new home.
I don't think we are the only ones. Our society excels in collecting things. We fill closets with clothes, shoes, and accessories. We stuff garages with cars, bikes, and tools. We pile up dinnerware in our cupboards and mementos in our basements. And if all those places get too full, we can drive down the street and rent a storage space. There is always room for more.
Except, do we really need more? Could it be that the accumulation of more is filling our homes but draining our energy? That the amassing of things is stuffing our closets but emptying our souls? Perhaps the popularity of stories about the Amish way of life and blogs about minimalism demonstrate that we're sick of excess. We long for simplicity and yet we struggle with the question, "What is enough?"
Could it be that the amassing of things is stuffing our closets but emptying our souls?
Click To Tweet
Part of the problem is that ever since Adam and Eve gave into an appetite for forbidden fruit and a thirst to be like God, we have been stuck with broken wanters. A wanter that can make me crave a slice of decadent chocolate cheesecake even after I've had soup, salad, and an enormous platter of chicken marsala. A wanter that can make me long for those adorable red pumps in the shoe store window even though I have twenty-five pairs of shoes in the closet. Our broken wanters prevent us from attaining enough.
In fact, our wanters are so broken, that we sometimes we have difficulty in discerning our true desires. Damaged wanters are so prevalent that a new profession has sprung up. For only $300 an hour you can hire a wantologist—someone who will help you distinguish what you really want from what you only think you want. For instance, you might go to a wantology session with a wish for a promotion at work and leave with the realization that what you really want is to quit your job. Because of our broken wanters, we don't know what will actually satisfy our souls. So, we continually search for the next bauble, the next promotion, the next relationship that we are sure will bring happiness.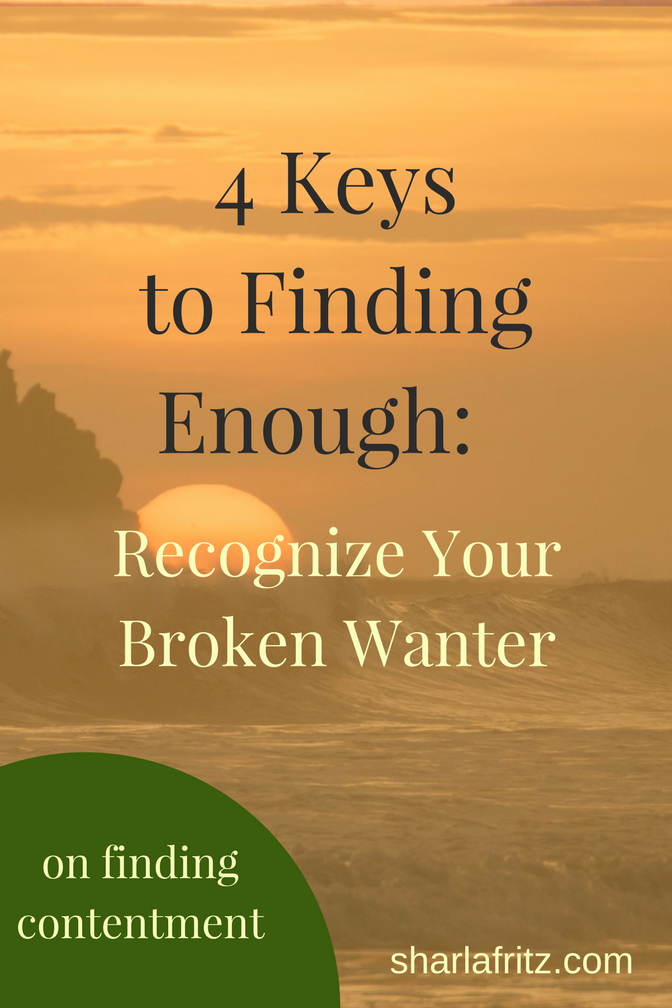 Scripture tells us about our broken wanters:
Put off your old self, which belongs to your former manner of life and is corrupt through deceitful desires. Ephesians 4:22
Our old sinful natures are twisted and tainted by deceitful desires. Desires for things that we think will make us happy, but fail us every time. We fall for Satan's lies that this item, this relationship, this money will satisfy.
Thankfully, we don't have to be stuck with broken wanters. Psalm 37:4 tells us:
Delight yourself in the Lord, and he will give you the desires of your heart.
When the Holy Spirit works faith in our hearts and we are able to find joy in the almighty Lord, He gives us desires of the heart. Desires for things that will truly satisfy our souls. Instead of seeking the next bauble or the next promotion we long for God's peace, God's love, God's grace which are always free.
On our own, we are incapable of achieving enough. But one of the ways we can find contentment is to recognize our broken wanters and ask the Lord to give us authentic desires.
Next step: Make a list of things you currently long for. How many of these things are guaranteed to satisfy your soul? Ask God to give you desires for things that will truly satisfy your soul.