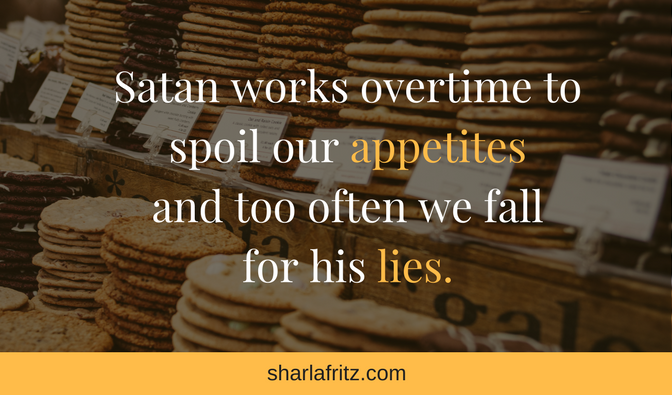 Why is contentment so difficult to attain? Why do we always want more? This post is part of a series on finding enough.
When I was a kid, my dad had a habit of pushing back from the table after a delicious and enormous feast and saying, "I spoiled my appetite."
Of course, he spoiled his appetite. He had eaten two servings of roast beef, a generous mound of mashed potatoes, fresh green beans, and two pieces of apple pie. He was no longer hungry.
My siblings and I laughed at my father's joke every time.
But a spoiled appetite isn't always so funny.
Satan works overtime to spoil our appetites and too often we fall for his lies.
It all started back in the Garden of Eden. Adam and Eve had everything they could want: delicious food, rewarding work without any of the problems, weather so delightful that clothes were unnecessary. They didn't need anything. And yet, Satan knew how to tempt them—to make them think they didn't have enough.
God had given Adam and Eve permission to eat from any tree in the garden—except one. He told them that if they ate from the tree of the knowledge of good and evil, they would die (Genesis 2:16-17). Satan, however, tried to convince them otherwise. He said, "You will not surely die. For God knows that when you eat of it your eyes will be opened, and you will be like God, knowing good and evil" (Genesis 3:4-5).  He insinuated that God was holding out on them. He tempted the first couple to want more—to be like God. Suddenly all the Creator had given was not sufficient.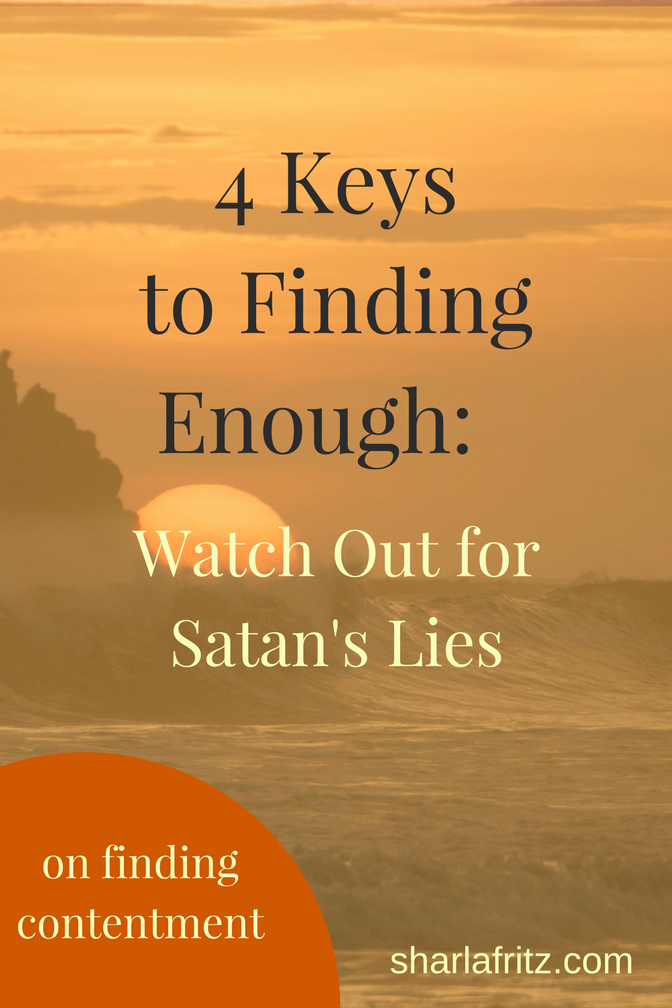 Satan continues to tempt us with the idea of more. He tells us that God is withholding His best from us. He whispers that what we currently have couldn't possibly be enough.
To combat Satan's lies, we need to arm ourselves with God's truth. His Word tells us:
And my God will supply all your needs according to His riches in glory in Christ Jesus. Philippians 4:19
Look at the birds of the air, that they do not sow, nor reap nor gather into barns, and yet your heavenly Father feeds them. Are you not worth much more than they? Matthew 6:26
He who did not spare his own Son but gave him up for us all, how will he not also with him graciously give us all things? Romans 8:32
Therefore do not be anxious, saying, 'What shall we eat?' or 'What shall we drink?' or 'What shall we wear?' For the Gentiles seek after all these things, and your heavenly Father knows that you need them all. Matthew 6:31-32
God promises to meet our needs. We may not always have everything we want and sometimes we may not get everything we need as quickly as we like, but God daily cares for us. He wants us to trust Him.
To combat Satan's lies, we need to arm ourselves with God's truth.
Click To Tweet
So when you are struggling with contentment, recognize Satan's lies. He trying to spoil your appetite for God. He wants you to think God is holding out on you.
Instead, rest in the fact that God cares for you and promises to care for you.Trust Him for all your needs. Let Him be your enough.
Next step: Think about what lies Satan may be trying to get you to believe. Print out the Scriptures on God's provision and post them where you can review them when Satan tries to whisper in your ear.