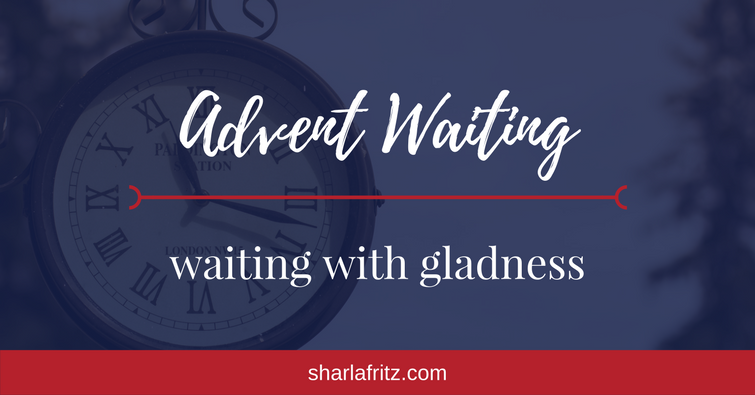 Advent is a waiting season. A time of waiting for Jesus.
Two thousand years ago, the nation of Israel was waiting for the fulfillment of the promises for a Savior. They had been waiting for thousands of years. But there was one man who probably was waiting more expectantly than anyone else:
Now there was a man in Jerusalem, whose name was Simeon, and this man was righteous and devout, waiting for the consolation of Israel, and the Holy Spirit was upon him. And it had been revealed to him by the Holy Spirit that he would not see death before he had seen the Lord's Christ. (Luke 2:25-26)
We assume Simeon was old because death was on his mind. But God had made a very specific promise to him–he would not die before he had seen the Messiah. Perhaps every day, he woke up thinking, "Is today the day?"
Then one day the Holy Spirit moved him to go to the temple courts. It "happened" to be the day that Mary and Joseph were bringing the baby Jesus to the temple to be circumcised.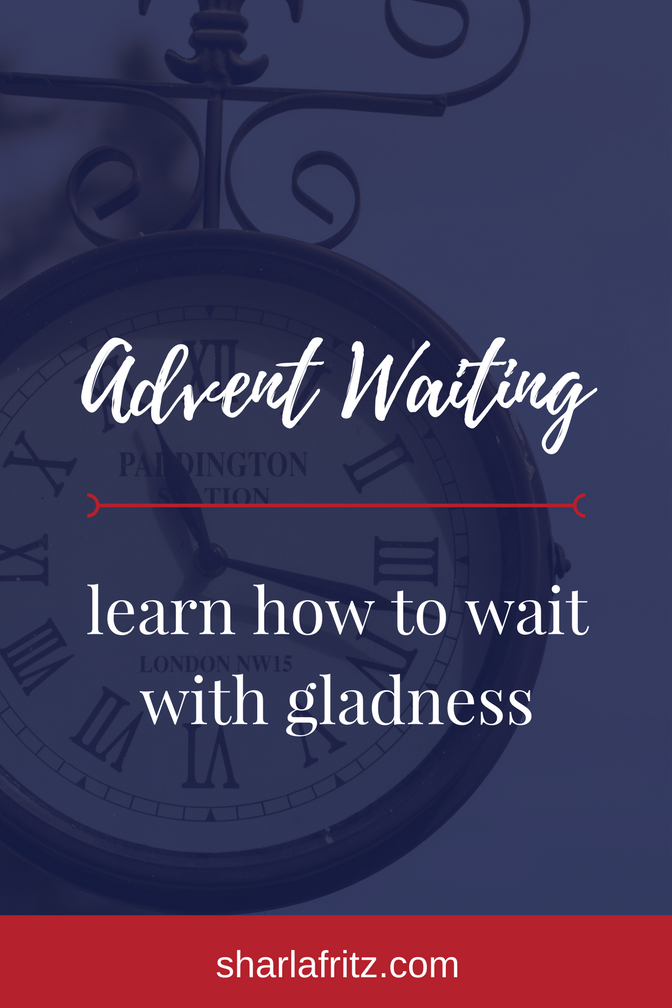 When Simeon saw this humble couple, he (like the prophetess Anna) recognized their young son as the Messiah. He went up to them, took the baby Jesus in his arms and said,
Lord, now you are letting your servant depart in peace,
    according to your word;
for my eyes have seen your salvation
    that you have prepared in the presence of all peoples,
 a light for revelation to the Gentiles,
    and for glory to your people Israel.

(Luke 2:29-32)
Simeon's wait was over. he had seen the Savior.
When we are waiting–waiting for a husband, a child, a job–let's remember that our most excruciating wait is over. God has sent the Savior! We no longer have to feel the burden of sin. We no longer have to drown in guilt and shame. Jesus came to the world, died in our place, and rose in victory.
When we are waiting, let's remember that our most excruciating wait is over. God has sent the Savior!
Click To Tweet
Yes, I might still complain when I'm waiting for healing, waiting to see my grandchildren, waiting for my coffee order at Starbucks. But even while I'm waiting, I can rejoice that the worst wait is over.
The Light of the world has come. He has entered the world and my heart. And no matter what else happens in this crazy world, I know that I, like Simeon, can depart in peace. And because of that I can rejoice.
Next step: If you do not know for sure that you are going to heaven, I assure you that Christ died and rose for you too. If you would like to experience God's love and forgiveness, simply pray this prayer:
Father in heaven, I realize that I am a sinner and fall short of what You want for my life. I know that I cannot save myself or earn eternal life. Thank You for sending Jesus to die for me. Because of His death and resurrection, You have made me alive for eternity. Help me to turn from my sins and follow You. Thank You for the gift of faith in Your Son, Jesus, my Savior and for the assurance of eternal life with You. In Jesus' name I pray, Amen.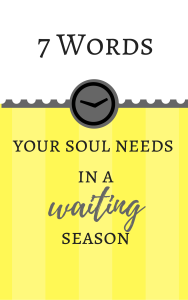 If you would like to learn more about waiting well, check out my new eBook: 7 Words Your Soul Needs in a Waiting Season. 
In it, you will discover seven words that can mean wait. Seven words that can give hope and purpose in the middle of delay. Seven words your soul needs in a waiting season.
It's FREE! Just sign up for my encouraging monthly newsletter and you will receive this devotional eBook with seven lessons on waiting, plus beautiful graphics of my favorite waiting Scriptures that you can print and frame.
Sign up below!
Subscribe to My Newsletter!