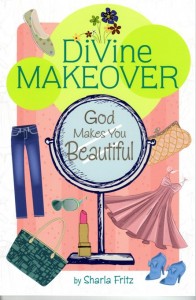 Sharla's newest book is for teens! Divine Makeover: God Makes You Beautiful is based on her first book: Divine Design: 40 Days of Spiritual Makeover. Refashioned for teens, this Bible study helps young women discover the inner beauty that is there for all of us because of Jesus' love. This makeover will transform your heart, soul, and mind.
Ideal for church youth groups or for mothers to do with their teen daughters, this study will help readers transform their "closet" by tossing out unattractive and constrictive outfits like the prom dress of pride and the handbag of worry. It will enable young women to see themselves as beautiful in God's Mirror–His Word.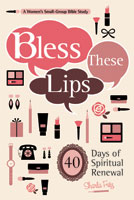 Bless These Lips: 40 Days of Spiritual Transformation helps readers achieve a Mouth Makeover–not with a $50 lipstick, but with God's grace. Examine what God's Word has to say about our mouths, tongues, and lips. Discover the power of your words and how you can influence your world through them. Each chapter uses lipstick analogies along with humor and personal stories to dig into scripture passages that teach how to use our words wisely. Each day's reading contains study questions and ways to reflect on what you have learned.
In this book you will discover how to:
Exfoliate: Scrub with Forgiveness
Soothe: Comfort with Encouragement
Plump: Enlarge with Praise
Line: Speak with Truth
Color: Choose Words with Grace
Gloss: Shine with Thankfulness
Seal: Protect with Discretion
Smile: Share with Joy
purchase at CPH.org     purchase at Amazon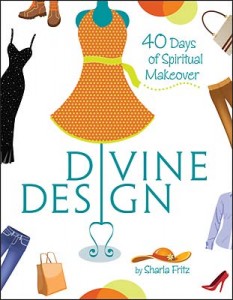 In Divine Design: 40 Days of Spiritual Makeover readers are inspired to participate in a "heavenly" makeover through relinquishing unattractive habits and attitudes and exchanging them for God-pleasing behaviors and thinking. In this "What Not to Wear" experience, readers will be encouraged to get rid of the worry handbag, the prom dress of pride and other soul-constricting outfits.
This study book is divided into 8 weeks of study with each week having 5 days of reading and Bible study. A companion DVD with 8 teaching sessions is also available.
purchase book at CPH.org purchase DVD kit at CPH.org purchase book at Amazon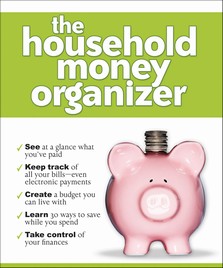 Sharla is a contributing writer to The Household Money Organizer (Revell). This book is a unique month-by-month pocket planner designed to help you keep your personal finances on track. Sharla wrote articles on "Fun Ways to Live Withing Your Means" and "Handling the Holidays." Other articles on reducing debt, saving on everyday expenses, and teaching children to handle money are also included.
purchase at Amazon purchase at Christianbook.com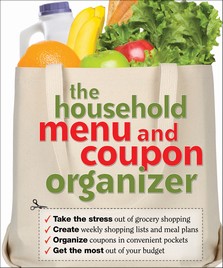 Meal planning and grocery shopping can be tedious and time-consuming. But they don't have to be! The Household Menu and Coupon Organizer is a unique month-by-month pocket planner that makes planning menus, making grocery lists, filing coupons, and managing your food budget easier than ever. Sharla contributed an article on holiday baking.
purchase at Amazon purchase at Christianbook.com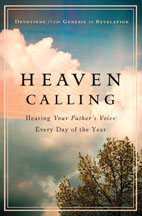 Sharla is a contributing writer to the devotional Heaven Calling (Zondervan). Written as if God were talking directly to you, His daughter, this devotional takes you through the Bible in a year. This beautiful gift book paints a colorful portrait of the Bible's most important concepts.
purchase at Amazon purchase at Christianbook.com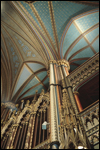 Learn from the Hymns Bible Studies
Sharla has written a series of Bible studies for ChristianBibleStudies.com. The Learn from the Hymns series examines classic hymns, the biblical lessons they offer and their relevance to life today.
The series includes

purchase and download at ChristianBibleStudies.com