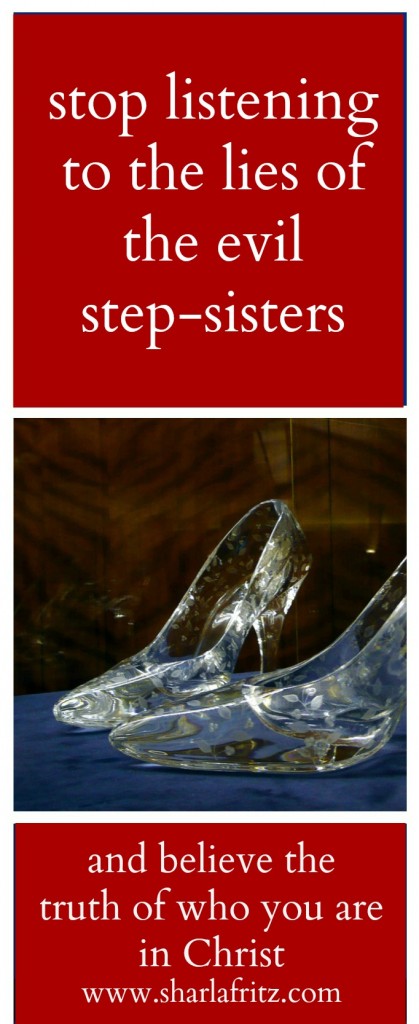 I love the story of Cinderella.
I mean–what girl doesn't? Behind-the-scenes girl gets invitation to swanky ball plus a stunning gown and to-die-for shoes!
However, there is one thing I never really understood about the fairy tale.
When Cinderella's step-sisters tell her that she is ugly, worthless, and unlovable–she believes them! I mean–doesn't she see how lovely she is?
It makes you want to yell into the screen: Don't believe them! You're beautiful!
I think this is sometimes how God feels about us.
We go through our day doing our work, dreaming our dreams. All the while we hear the voices of our evil-step-sisters (a.k.a Satan) telling us, "You're worthless." "You're a failure." "You will never amount to anything." The voices call us names like ugly, stupid, fat.
And we listen.
All the while, God is calling out to us: Don't believe it for a minute!
John 8:44 says:
 He (Satan) was a murderer from the beginning. He has always hated the truth, because there is no truth in him. When he lies, it is consistent with his character; for he is a liar and the father of lies.
Satan is a liar who wants us to doubt who we are in Christ. If he can't get me to doubt God, then he will make it his mission to get me to doubt I'm God's beloved child. If he is unsuccessful in keeping me from believing the saving work of the cross, he will work overtime to get me to doubt that I have worth and purpose because of Jesus' spectacular love for me. Satan will make it his mission to get me to believe his lies.
Just like Cinderella needed to stop listening to the lies of her evil step-sisters and see her true beauty, we need to shut out the lies of Satan and see our beauty in Christ.
God tells us that we are beautiful, precious, and honored. He calls us His bride and His beloved child. He lavishes us with love and grace. In His eyes we are perfect because of Christ. God even tells us that to Him we are a reason to sing!
Click here to get a printable version of the image below (5 x 7 or 8 x 10). Post it where you will see it everyday.
Don't listen to the lies of the evil step-sisters (a.k.a. Satan). 
Believe God's truth about who you are in Christ! 
original glass slipper photo source