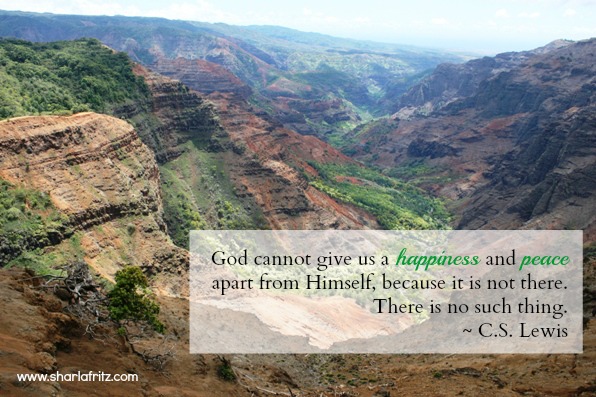 Where do you find happiness? Where do you look for joy?
I often think I can find happiness in this world. So I outline bigger goals, work harder and longer at achieving them. I buy more beautiful things or schedule more fun in my life.
But happiness in this world is elusive. The moment I'm within arm's reach of my manufactured bliss, it seems to move down the block.
Lately I've been reading C. S. Lewis's Mere Christianity. And I especially like what he has to say about happiness:
God made us: invented us as a man invents an engine. A car is made to run on petrol, and it would not run properly on anything else. Now God designed the human machine to run on Himself. He Himself is the fuel our spirits were designed to burn, or the food our spirits were designed to feed on… That is why it is just no good asking God to make us happy in our own way without bothering about religion. God cannot give us a happiness and peace apart from Himself, because it is not there. There is no such thing.
All my reaching for more–more success, more things, more activities–does not bring me true happiness.
Because true happiness and joy are only found in God.
Question: In what other things have you sometimes tried to find happiness? Did it work?