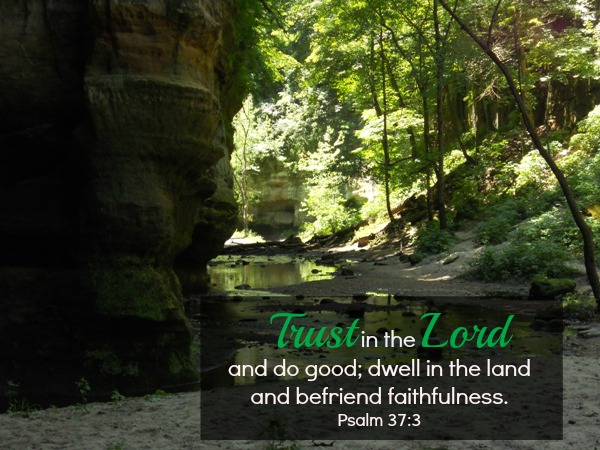 There was a time when I wanted a new house more than anything. It wasn't that the house we lived in was a hovel. It fact it was a two-story, four-bedroom, two-full-bath residence with a big backyard. The trouble was—it was old. And just a mile away, developers were constructing a brand-new subdivision of luxury homes. Suddenly, all the little flaws in my house were magnified. The windows that were painted shut were infuriating. The floor plan was aggravating. The well water that periodically turned my laundry orange was maddening.
I began to obsess about getting a new house. I lost sleep as I fantasized about a new place to live. I worried about saving money for a down payment. I failed to find anything good about my current home and in the process misplaced any tranquility I might have possessed. My new-house-obsession was a distraction from my real life.
One of my favorite verses is Psalm 37:4:
Delight yourself in the Lord, and he will give you the desires of your heart.
A new house was definitely one of the desires of my heart. Every time I tried to open the windows I wished for a new house. Whenever I tried to clean the rust stains off the tub I hoped for a new home. I kept praying that God would answer that desire.
But although I knew verse 4 of Psalm 37 by memory, I had forgotten about verse 3:
Trust in the Lord, and do good; dwell in the land and befriend faithfulness.
God promises to give me the desires of my heart, but first He asks me to trustHim.
Lately I've been finding that when I'm having trouble trusting God, the best thing I can do is be honest with Him. When I'm distracted by things that I want, I can stuff those desires down because they're not spiritual. I can avoid praying about them because they don't seem like something God would care about.
But of course, God knows the desires of my heart anyway. So the best thing I can do is bring my whole wish list to Him. Even if the list has things that seem trivial or (gasp!) worldly, when I talk to God about them, He can help me sort them out.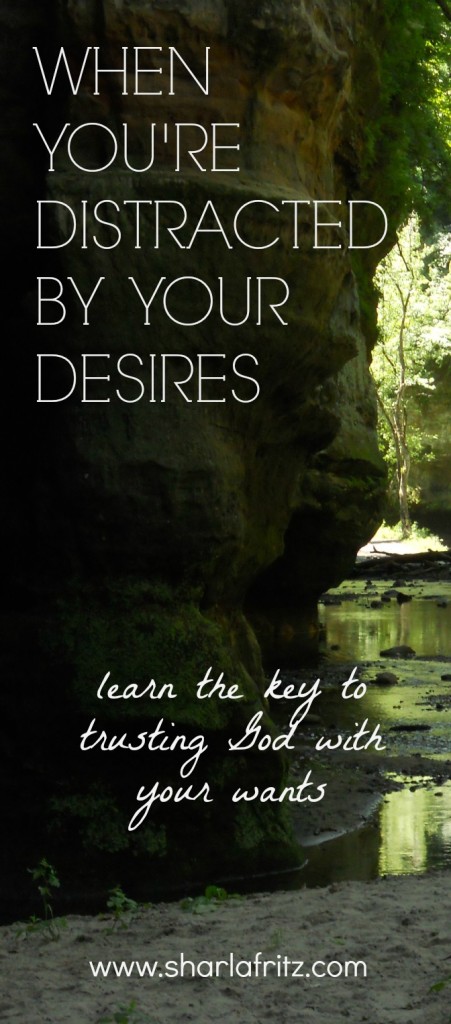 This is more than just asking God to give me everything on the list.
It's giving Him the list.
It's trusting that in His love, He will know which of those things are good. It's having faith that He will answer my prayers when the time is right.
You know, I struggled with new-house-distraction for a long time. But after I decided to trust God to give me what I needed, I learned to see its good points. And a couple of years after that, God blessed our family with a brand new house.
When I tell my gracious heavenly Father that I'm ready to trust Him, that's when my heart changes. When I give God my desires, that's when they lose their grip on my soul. When I hand God my list, my distracting desires give way to peace.
Next step: What distracting desires have a grip on your soul? Write down your list of wants. Then give it to God, tell Him you trust Him to give you what is best–at the right time.

If you would like to learn more about avoiding distractions and living a focused life, check out a FREE lesson that shares the one habit that changed my life more than any other. 
This five-page lesson will help you:
Discover the one Faith-Focus Habit that can immediately make a difference in your daily peace and clarity.
AND
Take the first step toward living out God's plan for your life and ignoring all the trivial paths that side-track you from your true purpose.
Click on the button below to get this FREE lesson: