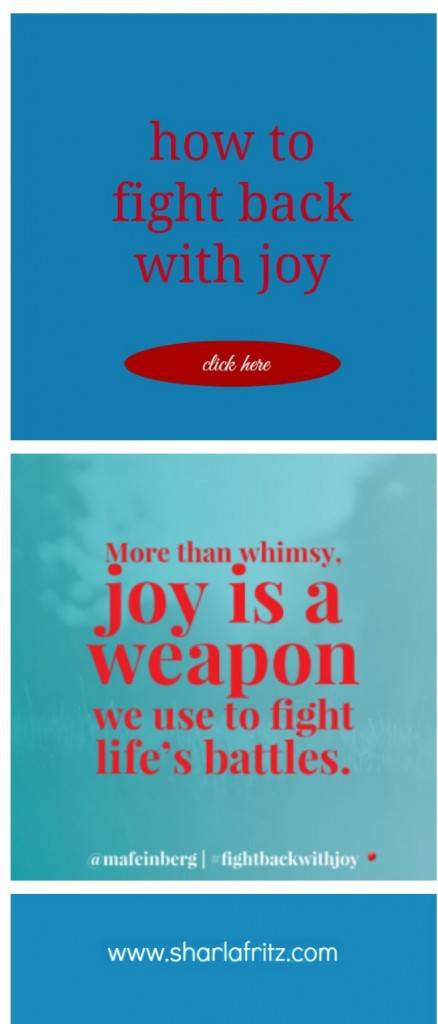 "More than whimsy, joy is a weapon we use to fight life's battles."
Author Margaret Feinberg makes this profound observation in her new book Fight Back With Joy.
Her journey with joy began by choosing "joy" as her one word for the year. She expected the year to be a mix of giddy feelings, spreading kindness, and banning worry. But in the middle of this year of joy, life threw another ingredient into the mix: cancer. Not a very common ingredient in a recipe for joy. Fight Back With Joy is Margaret's story of how she found joy in the midst of pain.
But the book isn't just a retelling of Margaret's battle with cancer. Instead, she writes for all of us who fight for joy in our life battles with money troubles, broken relationships, and painful loneliness. Through her story and the stories of other joy-fighters in Scripture, Margaret gives all of us the tools to discover joy in the midst of life's heartaches.
Margaret writes:
The Bible insists that joy is more than a feeling: it's an action. We don't just sense joy; we embody it by the way we respond to the circumstances before us.

What is the genesis of joy? I believe that, at its core, joy emanates from the abiding sense of God's fierce love for us.
This resonates with me because I have found this to be true. If I simply take time to remember God's fierce love even when deadlines loom, over-packed schedules crush my soul, and life comes crashing in, I am comforted. When I take the time to hear God whisper, "I have loved you with an everlasting love" (Jeremiah 31:3) my heart pushes back the deadlines, the busyness, and the looming darkness to rest in the joy of God's grace.
Margaret reminds us that no matter what life brings, God can help us fight our way back to joy. Her book and Bible study give us the tools to win the battle.

Purchase the book here and here and the Bible study here!
Question: How do you fight for joy?