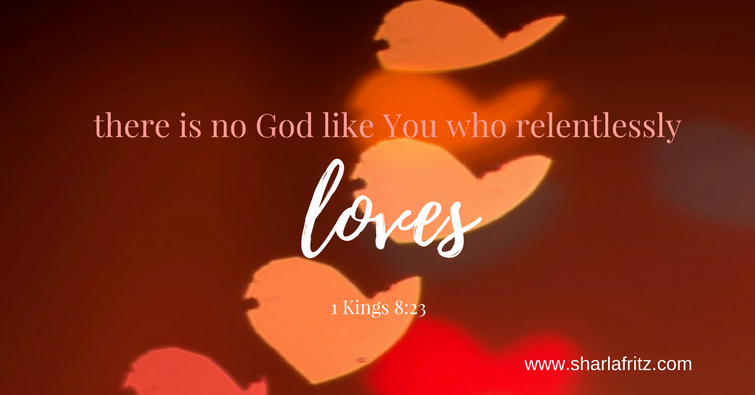 Part of my husband's job as a pastor is to visit people who can no longer leave their homes or retirement facilities to attend church. He meets many amazing people of the "greatest generation."
One couple he met was especially memorable. Their love for each other was always evident, but the husband struggled to say the words. He said, "I told her when we got married that I loved her. I'll tell her if that ever changes."
Oh, but we need to hear the words! Hopefully, you've heard those three small words, "I love you" many times from your parents, friends, spouse, and children.
But sometimes we as humans fail to express our love. Especially to those who need it most.
Thankfully, God never fails to tell us of His love. His love is unceasing. And His Word is always available as a continual source of I-love-yous.
So if you are needing a reminder that Someone cares for you or would like a few sweet love letters, I've compiled some of my favorite Scripture passages that speak of God's constant love for you:
There is no God like you in the skies above or on the earth below who … relentlessly loves (1 Kings 8:23 MSG)

For the mountains may depart and the hills be removed,
but my steadfast love shall not depart from you,
    and my covenant of peace shall not be removed,"
    says the Lord, who has compassion on you. (Isaiah 54:10)

"I have loved you with an everlasting love;
    I have drawn you with unfailing kindness. (Jeremiah 31:3 NIV)

The Lord your God is in your midst,
    a mighty one who will save;
he will rejoice over you with gladness;
    he will quiet you by his love;
he will exult over you with loud singing. (Zephaniah 3:17)

As the Father has loved me, so have I loved you. Abide in my love. (John 15:9)

Because you are precious in my eyes,
    and honored, and I love you,
I give men in return for you,
    peoples in exchange for your life. (Isaiah 43:4)

God's love has been poured into our hearts through the Holy Spirit who has been given to us. (Romans 5:5)

For I am sure that neither death nor life, nor angels nor rulers, nor things present nor things to come, nor powers, nor height nor depth, nor anything else in all creation, will be able to separate us from the love of God in Christ Jesus our Lord. (Romans 8:38-39)

Your steadfast love, O Lord, extends to the heavens, your faithfulness to the clouds. (Psalm 36:5)

For as high as the heavens are above the earth, so great is his steadfast love toward those who fear him. (Psalm 103:11)
There is no God like you in the skies above or on the earth below who ... relentlessly loves (1 Kings 8:23 MSG)
Click To Tweet
Although the humans in our lives may neglect to tell us of their love for us, we can always hear God's words of love in His Word.
Next step: Write out the verses that are most meaningful to you. Post them in places you will see them often: your bathroom mirror, your computer, your refrigerator. Remind yourself of God's relentless love for you!