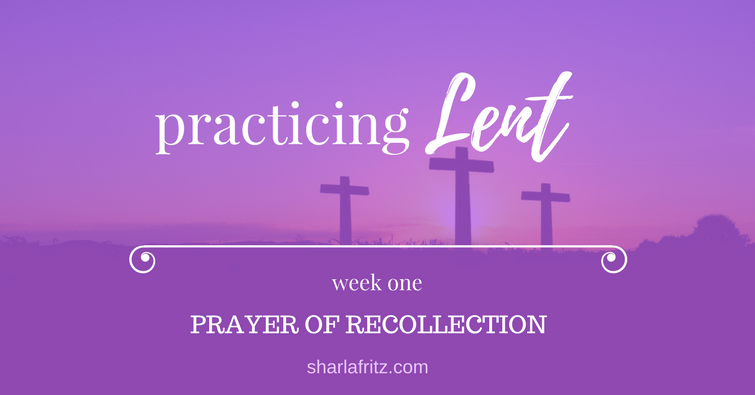 I settled in my cozy chair, ready to open my Bible and hear from God. Ready to open up to God and tell Him all that was in my heart.
But even as I sat in peaceful quiet, my thoughts left the pages of Scripture and ran to my to-do list. As I spoke to my Savior, my conversation was interrupted by thoughts about upcoming teaching responsibilities, the embarrassing incident that happened yesterday, and the laundry in the dryer.
No doubt about it, I am easily distracted.
During this Lenten season, I want to take time to focus on Christ and the sacrifice He made for me. To do this, I am going to use Spiritual Disciplines–practices Christians have used for centuries to grow closer to God. No doubt, you already use some of these practices–like Bible study, prayer, Holy Communion, and Christian service.
During the next few weeks, I am going to explore some specific forms of these Spiritual disciplines and invite you to do the same. All of these practices will be based on Scripture. As we read, pray, and meditate we will do so using God's own words to us.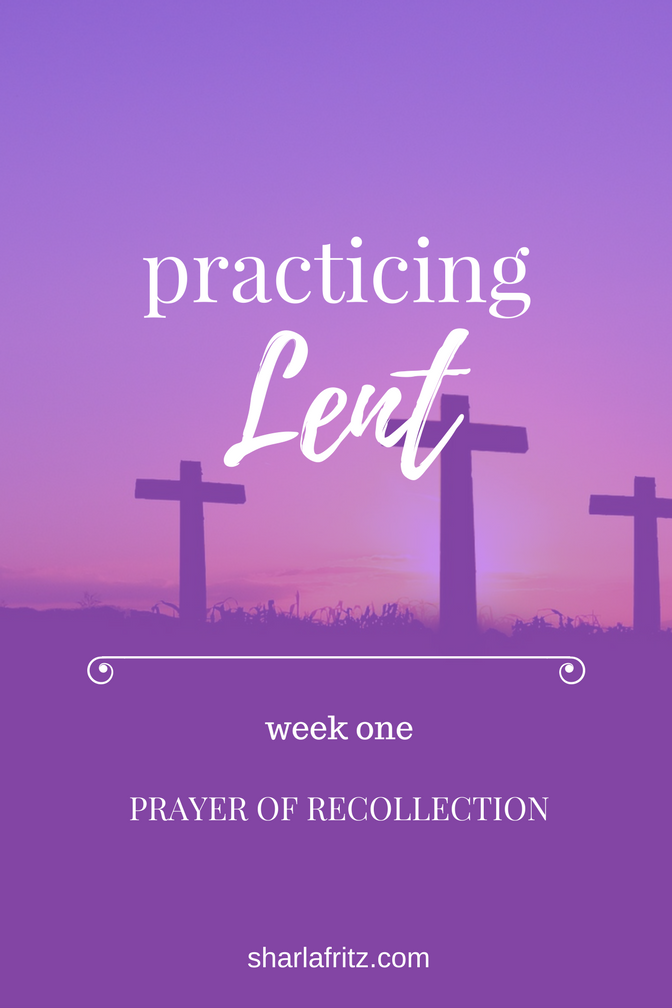 Prayer of Recollection
This week we will explore the Prayer of Recollection. There are many forms of this prayer, but the purpose is always the same. In the Prayer of Recollection, I recollect–remember who I am in Christ.
Too often I forget this. I see myself as a wife, mother, daughter. I define myself by the work I do. I look in the mirror and see someone who said something insensitive to her spouse. The person who was too busy to help a grieving friend. I wish I could change the mistakes of yesterday.
Too often I forget who I am in Christ. I fail to remember that I am more than my mistakes and flaws. I am more than what I do.
That's when I need to go to God's Word. There the Spirit reminds me:
Accept one another, then, just as Christ accepted you, in order to bring praise to God. Romans 15:7
You did not choose me, but I chose you and appointed you so that you might go and bear fruit—fruit that will last—and so that whatever you ask in my name the Father will give you. John 15:16
The Lord appeared to us in the past, saying: "I have loved you with an everlasting love; I have drawn you with unfailing kindness." Jeremiah 31:3
 Therefore, if anyone is in Christ, the new creation has come: The old has gone, the new is here! 2 Corinthians 5:17
As I meditate on these truths, I recollect–remember–who I really am.
Dealing with Distractions
But even as I pray and try to direct my thoughts to God's Word, my mind seems to wander off to other destinations.
Even as I meditate on Christ's acceptance of me, I wonder if my new boss has accepted me. As I contemplate what it means to be chosen by God, I start to hope I will be chosen for a position that would garner a lot of public attention. Even as I remember Christ's sacrificial love for me, my thoughts traipse through my to-do list.
I can berate myself and tell myself to get my act together, or I can recollect my soul–bring it back to God by taking note of my distractions. As I pray, I notice my rambling thoughts so that the Holy Spirit can gently deal with any distractions of my heart.
Adele Calhoun writes in her Spiritual Disciplines Handbook:
In the prayer of recollection we pay attention to our wandering thoughts and attachments so that we can be transformed….We open ourselves to seeing how secondary things have become idols of the heart–how our agendas, possessions, appearances and comforts matter more than keeping God first in our lives.
I find it helpful to keep a journal or a simple piece of paper nearby to write down any distractions that come to mind while I'm praying. Putting the reminder to make that dentist appointment on paper, gets it off my mind so I can refocus on Christ. But as I make note of these distractions, I may also discover the "idols of my heart." Do my thoughts continually travel to an upcoming vacation? Do they constantly turn to my long to-do list? Do I spend more time thinking about my job than God?
I can take all of these diversions to God. I confess any idols. I give Him my concerns and anxieties. As I confess, I receive His forgiveness because of Christ's work on the cross (1 John 1:9). I am comforted, knowing that the Father is in caring control of all that is happening in my life.
And then, I once again remember that I am a beloved child of God.
Next step: This week practice the prayer of recollection. Download a resource of Scriptures to guide your prayers.
Recollect who you are in Christ
Record any distracting thoughts
Recieve God's forgiveness and comfort
And again, recollect who you are in Christ.