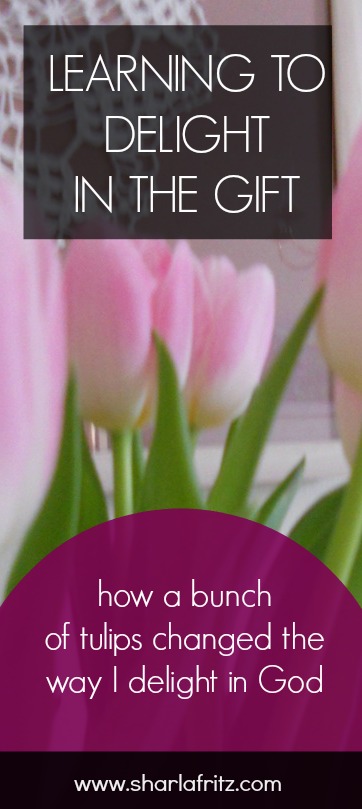 A while back I met a friend for lunch that I hadn't seen in months. She met me with a hug and a beautiful bunch of pale pink tulips.
My first thought was: They are so lovely!
 
My second thought was: I didn't get her anything!
 
Somehow how I couldn't fully delight in the gift because now I felt the balance of friendship was upset.
 
As I contemplated this I realized that my delight in God's gift of grace is also somewhat diminished by the fact that I didn't give Him something of value in return. I feel I have to do something for God 
In one way this is perfectly sane because it is a good thing to want to give back to God.
But in another way this is ridiculous because what could I give God that could equal the incomparable gift of His Son?
The real problem lies in the fact that sometimes my doing gets in the way of enjoying God. The nagging feeling that I should be busy in His service sometimes prevents me from simply delighting in Him.
Psalm 37:4 says:
Delight yourself in the Lord, and he will give you the desires of your heart.
When we learn to delight in the Lord, He becomes the desire of our hearts. We rest, contented with who He is and what He has given. The pressure to do is diminished. The weight of the my inadequacy is lifted.
Just for today, let's put aside our doing and simply sit at Jesus' feet enjoying His presence, reveling in His grace, marveling in His love.
Delight in the gift.
Next Step: Take five minutes today to sit quietly with God. Delight in His love, care, and protection. Thank Him for His many gifts to you.