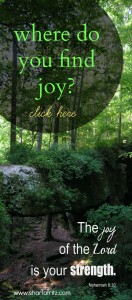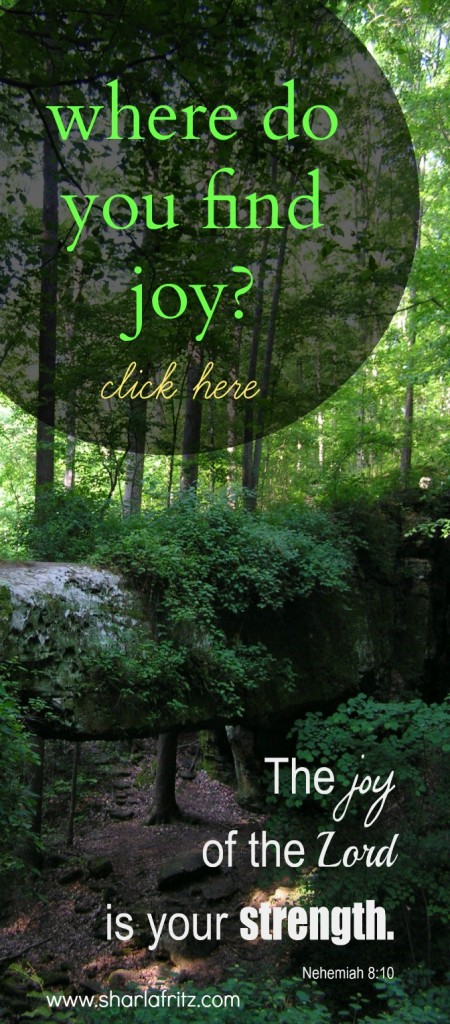 Joy can be an elusive commodity. I often wish it were available at my corner convenience store. (In fact I saw a convenience store in China named Easy Joy. You can read about it here.) Because I am searching for joy I have been diving into God's Word to find out what God had to say on the subject.
One thing I learned is that:
Joy is found in God's presence.
Psalms 16:11 says:
You have made known to me the path of life; you will fill me with joy in your presence, with eternal pleasures at your right hand. ( NIV 1986)
God fills me with joy in His presence. There's no doubt about it. When I am turned toward God, looking at Him, I feel joy. When I am facing my problems, I feel anxiety, disappointment, and doubt.
Where do you feel closest to God?
For me, one of the places I feel closest to my Creator is when I am in nature. Places like the Shawneee National Forest in the picture above make me realize that God is so much bigger, so much more original, so much more amazing than my mind can comprehend. Looking at what He has made helps me to see Him.
But I live in a city and it requires time and effort for me to get out into nature. I admit–I don't make that effort very often.
God tapped me on the shoulder and asked:
Wouldn't it make sense to go often where you feel closest to me?
Whether it is in a brick and mortar church or a forest cathedral, shouldn't we yearn to go where God seems near? Whether it's sitting in a quiet room listening to music or skiing down a snowy mountain, shouldn't we make the effort to go where we can almost touch Him?
Even though it's February, even though it's cold. I'm going to go outside and worship. I'm going where I sense God is near.
Question: Where do you feel closest to God?