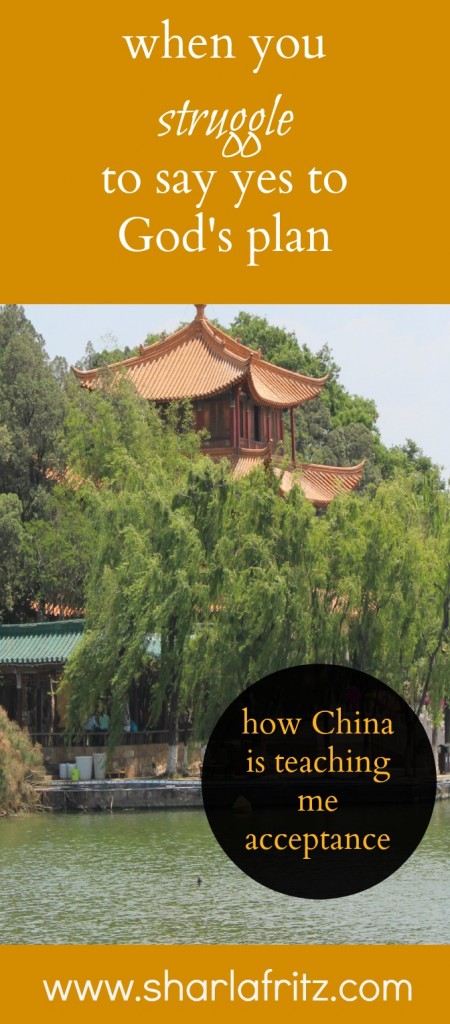 I remember a conversation I had with my daughter as I was tucking her into bed when she was about four. I said something like, "Anna, you are getting so big! Pretty soon you'll be all grown up!"
And Anna, very serious at the thought of being an adult, looked at me and said, "Mom are there any houses on our street that are empty?" Awww…my daughter wanted to live close to me when she grew up.
So imagine my surprise when she got married and moved to—China!
Let me tell you I did not take this news well. Especially because not only did Anna and her husband move 7000 miles away—they had the audacity to take my grandchildren with them. No more chasing giggling toddlers through the halls, snuggling on the couch with them reading storybooks, or laughing along with Winnie-the-Pooh videos. Now my husband John and I had to settle for playing peek-a-boo on Skype and getting pictures of our grandchildren through email. As a result, I was about as upbeat as Eeyore on life-support.
Lately I've been studying the life of Mary, the mother of Jesus, and I was struck by how she willingly accepted God's plan for her life. When the angel Gabriel came to tell her that she was going to be the mother of Jesus, she questioned how that was going to happen because she was a virgin, but she didn't complain that being pregnant before marriage was going to make life difficult. She didn't whine about being the subject of gossip. She didn't even bring up the point that her fiance Joseph would surely not believe her strange story about an angel and a virgin pregnancy.
Mary simply said yes to God's plan.
And because I was struggling with saying yes to God's plan for my life I wondered: How was she able to do that?
I think it was because she believed Gabriel's words, "Greetings, O favored one, the Lord is with you!" (Luke 1:28). She believed that God was right there with her.
I wonder if she felt God's presence at that moment. Seeing a heavenly being, hearing God's words to her—it's hard for me to imagine she didn't have a sure sense of His love in that moment. In time held still, with God's presence all around her and His love shining into her heart, all of the possible consequences of rejection and ridicule faded away. She said yes to God's plan because she trusted that God was with her. And she knew that if God was holding her hand, she could get through anything.
But even when we don't feel God's presence, we have the promise that He is always with us. That same Messiah that Mary trusted and carried, promises all of us in Matthew 28:20,
"I am with you always, to the end of the age."
Gradually, I have been learning to say yes to God's plan for my daughter and her family even though I wish they weren't so far away. I've been learning to say yes because I am trusting the Lord is with me. If I hold onto God's hand I can say yes, because He is with me–and with them.
We can say yes to God's plan when we trust that He will walk beside us.
Question: What do you do when it's hard to say yes to God's plan for your life?