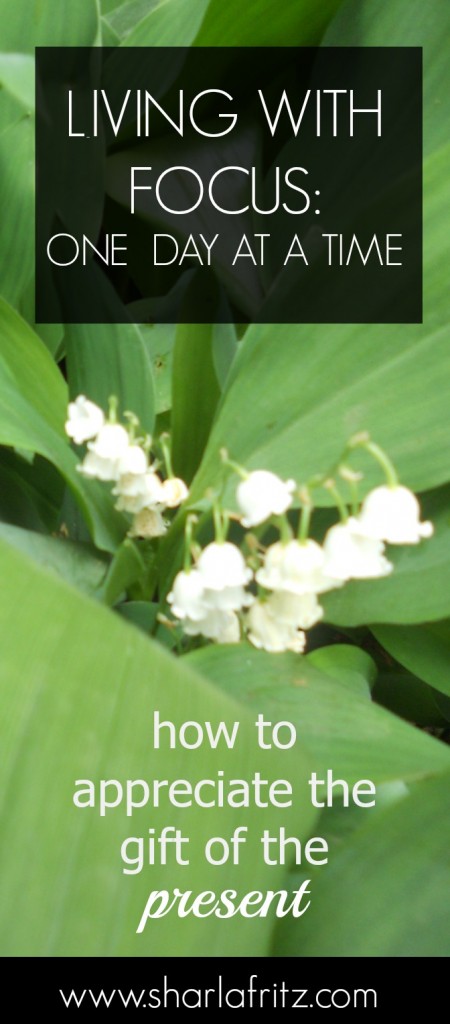 My focus on life has sharpened in recent months.
I guess that's one "benefit" of serious health news.
Ever since my husband's diagnosis of lymphoma in January, life has seemed more precious. Yes, I still waste time worrying about future tragedies, future finances, future successes, and future failures—but maybe not as much as before. Life with cancer has a tendency to sharpen your focus on today.
A friend of mine has also been diagnosed with cancer and I feel as if she is teaching me a graduate-level course on living in the moment. This friend received her diagnosis about four months before my husband received his bad news. When I told her about my husband's diagnosis, she hugged me and said, "Well, I guess we can start our own little cancer support group."
My friend and her husband are a constant source of inspiration. Instead of focusing on any possible dire outcomes, they choose to focus on the fact that they have today. One more day together is enough for now.
They are living out the sentiment of this little quote:
It is only possible to live happily-ever-after on a day-to-day basis. ~ Margaret Bonnano
How true.
When I take a moment to appreciate the bridal wreath bush blooming in my neighbor's yard, there is happiness, When I stop to breathe in the scent of the lily-of the valley in my own yard, there is wonder. When I appreciate the touch of my husband's hand in mine there is joy.
When I focus on the gift of today, there is gratefulness.
Focus may sharpen in the face of serious complications, but thankfully that is not the only way to hone your concentration on the gift of the present.
We can all start by reading Jesus' words:
So don't worry about tomorrow, for tomorrow will bring its own worries. Today's trouble is enough for today. (Matthew 6:34)
Let's not waste any more energy worrying about what might happen. Let's not spend time thinking about the "what-ifs" of life. Let's not carry around the burden of tomorrow along with today's duties and responsibilities.
Then we can pray–thanking God for the gift of today:
Lord, help me to see each day as a treasure. Help me to fully see the gifts You have placed in front of me. Enable me to shut out the "what-ifs" of the future and appreciate what You have given in this moment. Instead of waiting for some perfect tomorrow, may I see the beauty of today. Help me to see the blessings, taste the life, and love the people that are here—now. Amen.
Focus on today.