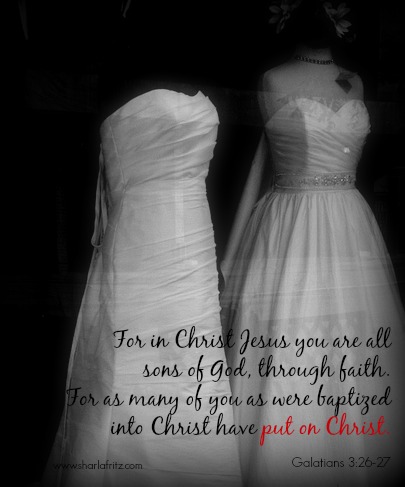 I took a step back and looked at the bride. She was radiant in her white gown. A smile lit up her face when she saw her reflection in the mirrors all around the room. Her beauty was obvious.
During my college years I worked at a bridal salon each summer. I got to work with stunning bridal gowns, lovely bridesmaids' dresses, and gorgeous formals. I could run my fingers over smooth satin and intricate lace. I was able to see the latest designs covered with sequins and pearls. Each dress was a work of art.
But what made the job especially interesting was to see the transformation of the girls who came in to try on the dresses. Since it was summertime, most of them came in to the store wearing shorts, flip-flops, and a tee shirt. Not particularly glamorous.
When a girl arrived for her fitting, I showed her to a room covered with mirrors and brought in her dress. I slipped the dress over her head. From the smiles visible in every mirror, I could tell she felt like a princess. In just a few minutes, she was transformed from an ordinary girl in summer shorts to a dazzling beauty in a stunning gown.
The Holy Spirit does something like that for us in our hearts. Because of Adam and Eve's sin, we are born with dirty hearts. We are hopeless and helpless. But when we first receive the gift of faith, the Holy Spirit begins our divine makeover. He starts by clothing us in Christ.
Galatians 3:26-27 says:
For in Christ Jesus you are all sons of God, through faith. For as many of you as were baptized into Christ have put on Christ.
What does it mean to put on Christ? When we put on clothes, they cover our bodies. When people look at us they see the outfit, not our skin. When we put on Christ, He is the one that others see. In God's eyes we are no longer ordinary girls, we are princesses in His kingdom.   We are radically changed.  
Putting on Christ is not just playing dress-up. The Holy Spirit changes us from the inside out. A beautiful gown may make you look like a princess, but when you are clothed with Christ, you truly are a princess—a child of the King.
Question: When have you felt transformed by a dress?
This post was adapted from my new book for teen girls:
Divine Makeover: God Makes You Beautiful  Check it out!