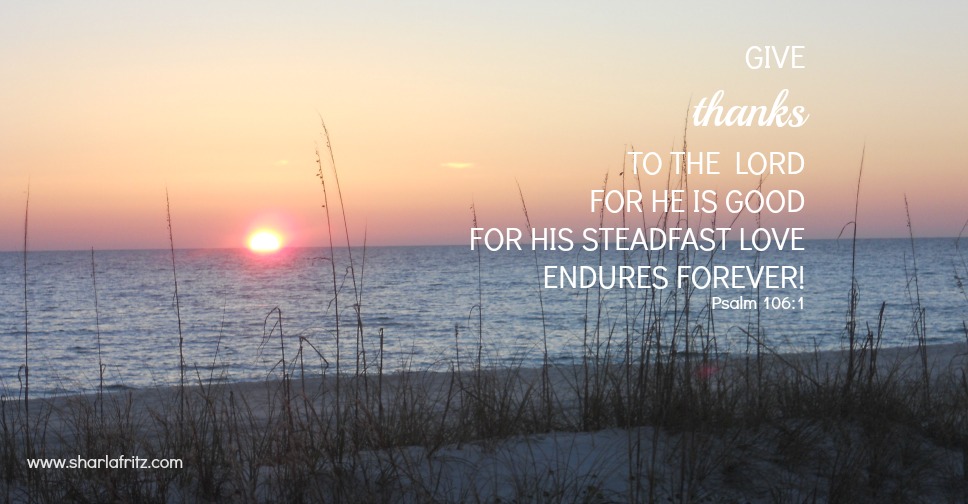 Oh give thanks to the Lord, for he is good, for his steadfast love endures forever! Psalm 106:1
This Thanksgiving I have much to be thankful for.
But when 2015 began, it didn't look like it would be easy to say those words.
My husband, John, was diagnosed with lymphoma in January. Although the doctors kept trying to reassure us with phrases like, "If you have to have cancer, lymphoma is the best kind to get," we weren't too sure. Life seemed very fragile and uncertain.
Life with cancer was hard enough to deal with, but it was made even more difficult by the fact that our children do not live close enough to lend support on that tough road. My daughter and her family live in China. My son and his wife live in the next state. It wasn't like either of them could drop by for dinner and a hug. They couldn't sit with my husband at his chemotherapy appointment.
Some days it was difficult to live with a grateful attitude.
But now, eleven months after the diagnosis and three months after chemotherapy, my husband is doing much better.
And so it's easy to be thankful.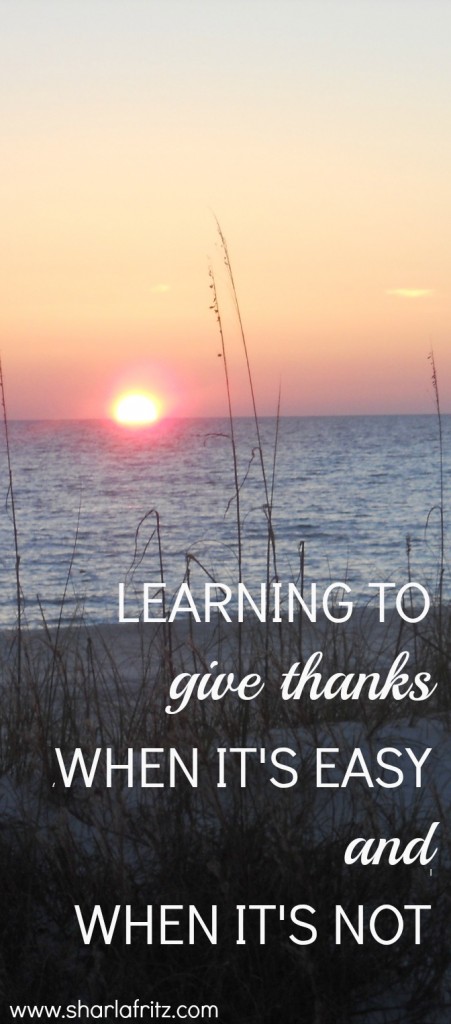 I'm thankful that chemotherapy was successful! My husband is officially in remission and is starting to feel more normal after the months of chemical cures.
I thankful that this coming year we will have family close! My daughter and her husband are expecting baby number four. And the whole family is flying from China to be with us during the holidays! They will stay in the U.S. for the birth of the new baby.
I'm thankful for friends, for a comfortable home, and for work I love.
I'm thankful for the little things like radiant sunrises, warm sweaters, and Carrot Cake Coffee.
Most of all, I'm thankful for God's goodness. I'm grateful for His steadfast love. Because even if I didn't have any of the other things I listed above, I know I would always have those. The psalmist reminds me, "His steadfast love endures forever."
I pray that God will cultivate gratitude in my heart–gratitude that is not dependent on my circumstances. That I will be able to thank Him for His eternal blessings no matter how life on earth is shaping up.
How about you? What are you thankful for?
Next step: Make a list of the earthly blessings you are thankful for this year. Then make another list–a list of the spiritual blessings you have that cannot be taken away. I'll get you started: God's love, Christ's redemptive work on the cross, the Holy Spirit's abiding presence. If you like, write some of your blessings in the comments below!