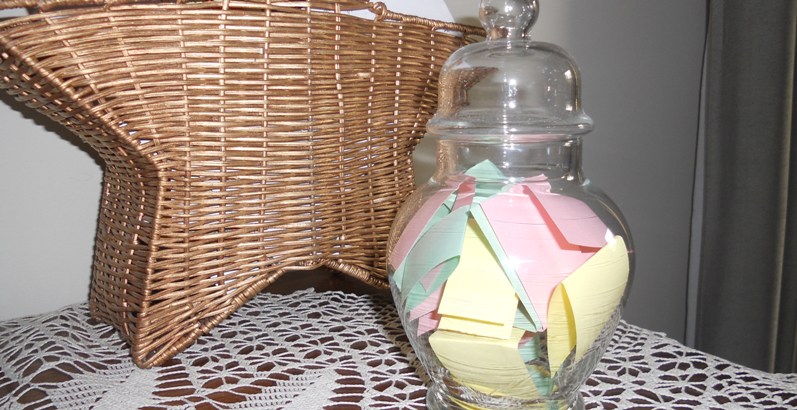 Are you having trouble finding the right gifts this Christmas?
 Usually there is one person on the gift list who is impossible to buy for. For me it was my father. One Christmas I asked my mother what Dad might like for Christmas. She thought a minute and replied that he could probably use some new flannel shirts–the ones that he was wearing around the house were really old and ratty. So I headed down to Sears bought a couple of warm, cozy flannel shirts and wrapped them up. When Christmas Eve arrived, I handed him the box. He opened it and said, "Why do I need these? I have a whole drawer of new flannel shirts at home!"
So the next Christmas I asked my dad what he would like for a gift. He replied, "All I want is a nice card."
I thought: How boring!
But I decided to honor his wishes and (among a couple of other small gifts) I made sure that I gave my dad a card that expressed my thankfulness for his support through the years. On the front of the card I included a picture of the two of us from years ago. He loved it.
As I thought about that present I was reminded that our words can be a meaningful gift at Christmas.
"But," you say, "I want to give a gift that they can open on Christmas morning."
I did a little brain-storming and web-research and came up with some ideas for creating meaningful gifts with your words.
Give a Journal
Buy a beautiful journal. Inside the first few pages write a letter to the recipient describing what he means to you.
Present a Bowl
Buy a lovely bowl. Fill it with slips of paper that each tell why you think that person is awesome. Tell them to read one each day for the next month.
Give a Jar of Encouragement
Perhaps you know someone who is going through a tough time. Look up encouraging quotes and Bible verses and print or write them on small pieces of paper. Put the papers in the jar. Label the jar: Take one when you need a lift.
Lights, Camera, Action!
Make a little video telling the other person why he or she is so special. Put it on a DVD or email it to them.
Ribbon and Scroll
Write your letter of appreciation on a scroll. Tie it up with a pretty ribbon and wrap it in a beautiful box.
Word Cloud
Make a word cloud on WordItOut or Wordle using the name of the person you want to honor and adjectives that describe them. Here's one I created for my son, Nathaniel. This word cloud could then be printed on paper and framed or put on a mug or t-shirt.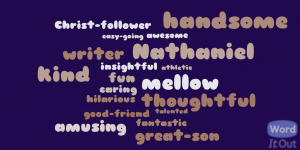 Our words can be a creative and meaningful gift. All those years ago, my father loved the simple card I made much more than any flannel shirt. Give the gift of appreciation. A gift that will be cherished for years to come.
 Question: How have you given the gift of your words?