In sixth grade I had a spectacular fall because of a bit of pride.
The school I attended was part of a large church. During the school year each class took turns singing for the church services. Well, in sixth grade our entire class was learning to play the recorder. And we were getting pretty good. One day our teacher, Mr. Giese, announced that our class was going to perform for an evening service. Most of the class would sing, but three of us would be chosen to play the recorder part. I tried to play it cool when I was picked to be one of the three, but inside I was bursting with—I might as well say it—pride. 
Before the church service that night, I changed into my dress—and my first pair of pantyhose! (Believe it or not—there was a time when pantyhose were cool.) I was really going to wow everyone: new dress, recorder, and pantyhose.
When I got to the church, I climbed the stairs to the balcony with my beloved recorder. With each step I heard the organ music grow louder. At the top of the steps I paused at the back of the balcony and looked down the short, steep flight of stairs to the front of the balcony. Mr. Giese was at the organ in front of me. Most of my classmates were already in the pews on either side of the aisle. Good. I could make a grand entrance.
I took a step. And another. Then disaster struck. Somehow I tripped and landed on my bottom with a thud loud enough for Mr. Giese to hear me above the organ music. Loud enough for him to stop playing and look to see what had happened. Loud enough for all the kids in my class to shake with quiet-as-possible laughter.
I looked down at my pantyhose. Both knees had holes the size of dinner plates. A million runners scampered up each leg. My brand new pantyhose were no longer so impressive.
My sixth-grade experience was a perfect example of Proverbs 16:18:
Pride goes before destruction, and a haughty spirit before a fall.
While that encounter with pride led to a literal fall, there have been many more times when my better-than-you attitude has resulted in humiliating failure. What is it about pride that trips me up? I think it may cause me to fall because I'm looking down at other people rather than watching where I'm going. I'm too busy staring at myself to notice any potential dangers. I'm so worried about how I look, I forget to look around me.
In order to avoid the consequences of pride, I need to wear humility more often. Humility isn't a hot style today. You don't see too many celebrities wearing it. But it makes a unique fashion statement.
It's unique because almost everyone in the world is like me—they wear pride. When I'm wearing pride I'm concerned about one person and one person only—me. But humility? Humility thinks about others.
Pride continually gazes at a mirror. Humility looks at the girl next to her.
Pride focuses attention on herself. Humility asks her friend how she is doing.
Pride expects praise. Humility looks for ways to build up others.
Pride demands to be first. Humility pushes others to the front of the line.
Pride wonders what others think of her. Humility just thinks of others.
The night my pantyhose-recorder pride caused such an impressive fall, I snuck downstairs after the service to wait for my parents. While I was hiding behind a pillar to conceal my hideous legs, I overheard a man say to his wife on their way out of church, "Do you know what made that sonic boom before the service began?" That was not the kind of impact I had wanted to make.
It's natural to want to impress everyone around us with our beauty, our intelligence, our skills. But the truth is—we will make a bigger impact on the world when we wear humility.
Question: Who do you know that exhibits humility?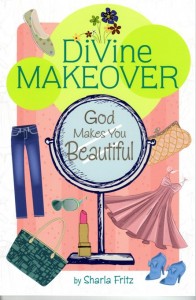 This post was adapted from my new book for teens and young women:
Divine Makeover: God Makes You Beautiful.
Perhaps you have been looking for a resource for your youth group or a study to do with your daughter. Or maybe you need a confirmation or graduation gift for a lovely young woman.