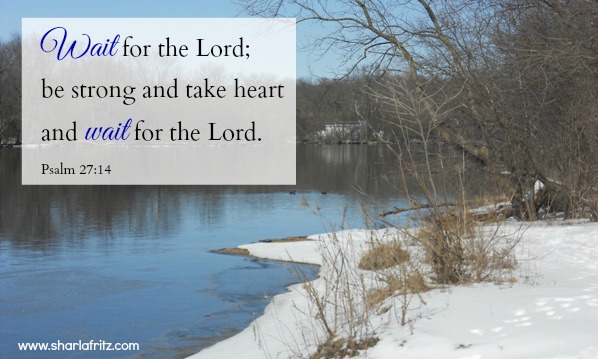 I hate the word wait.
I don't like being put on hold on the telephone. I hate slow service in a restaurant. I despise long lines in the grocery store.
I especially hate waiting for answers to my desperate prayers.
But it seems to me that God loves the word wait.
He made the world wait thousands of years for the Savior. And during this time of the year, as we anticipate Christmas, we remember that long wait. During Advent we think about the waiting.
Why did God wait so long to send a Savior? Why is He waiting to return and judge the world? And why, oh why, does He wait to answer my prayers?
I believe one of the reasons for delay is that waiting draws us to Him.
I have to admit it. When everything is going well I am tempted to rely on myself–think I have everything under control.
It's when I'm desperately waiting for better health for a family member or for a change in our finances or for direction for my life that I am on my knees. When I don't have everything under control, I turn to God.
Waiting makes me see all my efforts are useless. Waiting makes me see that I need to trust God's goodness.
Waiting pushes me to the heart of God.
Psalm 27:14 says:
Wait for the Lord; be strong and take heart and wait for the Lord.
Waiting isn't for sissies. It takes strength and patience and unremitting devotion to God's way.
But if we let the waiting draw us closer to God, if we allow the delay to pull us closer to His heart–we can realize there is a purpose in the wait.
We can see–God is there in the waiting.
Question: What have you learned during your waiting times?