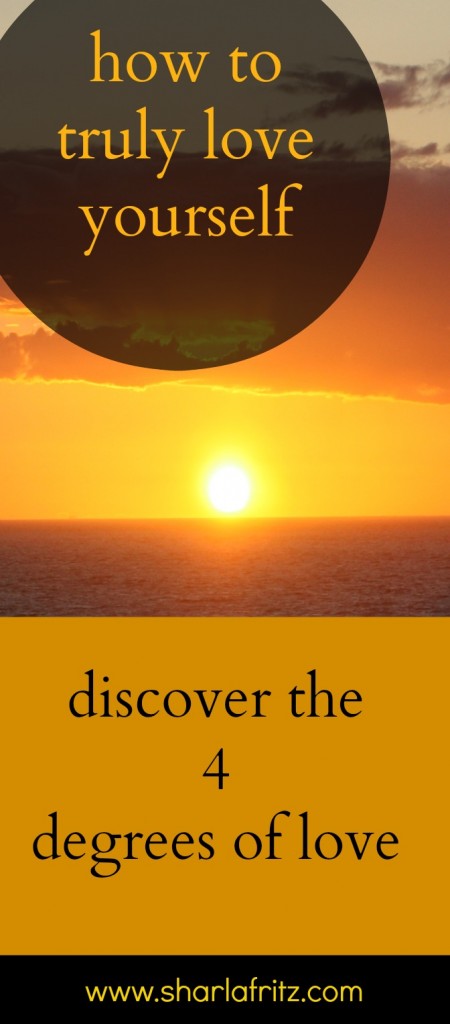 I tend to have a love/hate relationship with myself. Maybe you can relate.
On days things are going smoothly, we are pleased. But on days we mess up we might be disappointed with our performance and even despise who we are.
Popular culture says some of the keys to loving ourselves are not expecting perfection from ourselves and not comparing ourselves to others.  Loving ourselves means learning to nurture ourselves and forgive ourselves. Listing our best qualities and practicing receiving love are keys to loving ourselves.
These are all useful tools. But I think one crucial element in truly loving yourself comes in learning the four degrees of love.
Recently I read a devotion by Bernard of Clairvaux.   A supervisor of a monastery in France, he lived from 1090 – 1153. His writings influenced Luther and many other Christians. His book On the Love of God outlines the four degrees of love.
1. The first degree of love–love of self for self's sake. This is our selfish preoccupation with our own needs. It is a sort of natural love for ourselves, wanting everything to revolve around us. 1 Tim 3:2 talks about this kind of love, "For people will be lovers of self and [utterly] self-centered, lovers of money and aroused by an inordinate [greedy] desire for wealth, proud and arrogant and contemptuous boasters." (Amplified Bible) It's not a true love for ourselves, but a love for comfort and fame and attention for ourselves.
2. The second degree of love–love of God for self's sake. When we can't meet our own needs and experience a crisis, we crawl to God and beg Him for help. We love God for His blessings. We see this love in Psalm 116:1, "I love the Lord because he has heard my voice and my pleas for mercy." This is not a bad love, but it is still a self-centered love.
3. The third degree of love–love of God for God's sake. As we grow in faith, we grow to love God in a deeper way. We realize that He is more than a genie who solves our problems. Through worship, prayer, and time in His Word, we come to truly know God and love Him for who He is and not just for what He can give us. 1 Peter 1: 6, 8 describes this kind of love, "In this you rejoice, though now for a little while, if necessary, you have been grieved by various trials…Though you have not seen him, you love him. Though you do not now see him, you believe in him and rejoice with joy that is inexpressible and filled with glory."
4. The fourth degree of love–love of self for God's sake. Bernard explains that this love is experienced only fleetingly in this world. But when we experience a oneness with God and can pray from the heart, "Thy will be done," we lose our self-preoccupation. We don't dwell on our needs. That's when we truly love ourselves.
I think that this love of ourselves for God's sake only comes when we truly see ourselves as the forgiven, much-loved daughters of the King. We don't love ourselves because we have performed well. We don't love ourselves because we deserve love. We love ourselves because we see ourselves through God's eyes. Because of Jesus, He sees us redeemed and righteous. He calls us precious and honored and loved (Isaiah 43:4).  1 John 5:19 says, "We love because He first loved us." It is only because of Christ's love that we can love ourselves or others.
I love the words of 1 John 4:16.
And so we know and rely on the love God has for us. God is love. Whoever lives in love lives in God, and God in him.
Rely on the love God has for you. That's when you can truly love yourself. That's when you can truly love others.