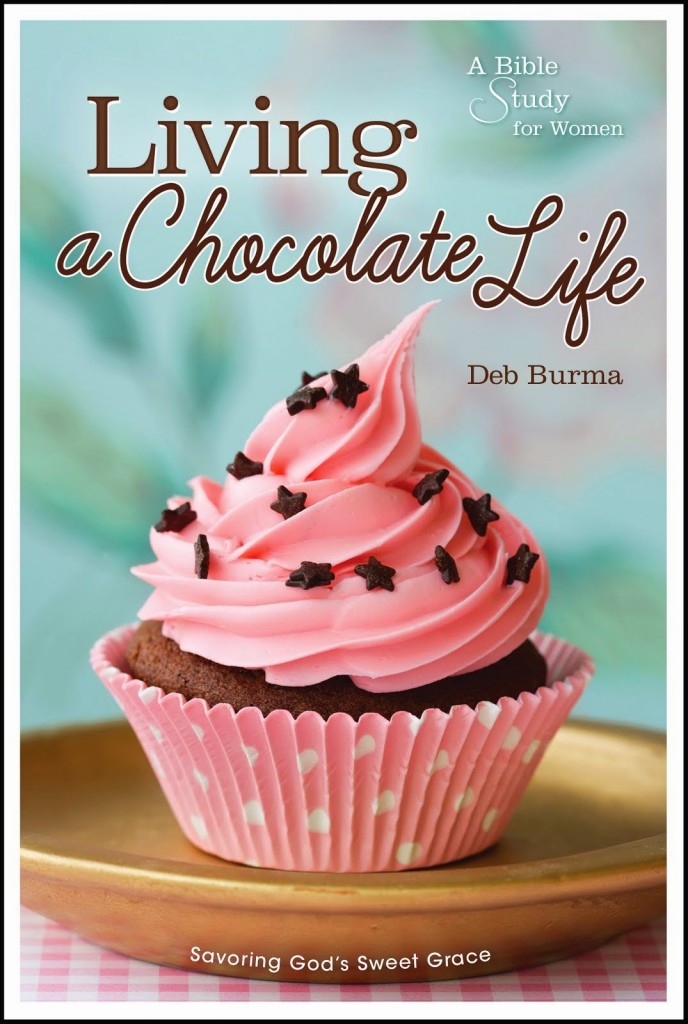 I am a confirmed chocoholic. So is it any wonder that I couldn't wait to read this book?
Living a chocolate life certainly sounds delicious.
But this book is more than an ode to my favorite sweet. It is a Bible study on the sweet grace of Jesus Christ.
According to author Deb Burma:
Living a chocolate life means sampling everything from bitter nuggets of pain to sweet morsels of joy. Some days are dark and lumpy, others are light and smooth. Whatever the shape, flavor, and texture of our days and however our lives are packaged, we can savor God's rich and endless supply of grace in Christ! Wrapping us in forgiveness, the Holy Spirit fills us with sweet faith in our Savior.
One of my favorite stories in the book is about one of the author's own baking disasters. When Deb was preparing a triple layer cake for dinner guests, she didn't shave off the mounded center of each layer before frosting and stacking. The chocolate treat looked magnificent for a minute, but then the top two layers split in half. Crumbs and frosting landed everywhere. She managed to salvage the dessert by shaving off the rounded tops and piecing it all back together with more frosting. When she was finished, no one could tell that it had been a near disaster. Deb tells us that is how God's grace is: "When we fail, when we make mistakes, when we crumble under the weight of our sins, our heavenly Father lavishes His thick, indulgent grace upon us. He covers our sins and forgives us through Christ's atonement on the cross."
Deb explores rich Scriptures about God's endless supply of grace to us and how we can share that grace with others. The study talks about our cravings and finding satisfaction in Christ. It explores the bitter bites of life and the sweet surrender of our hearts to God's plan. Throughout the book readers are encouraged to dig into the Bible and memorize meaningful bites of it. Discussion and reflection questions are present throughout.
While this study would certainly be meaningful to complete on my own, I can't wait to do it with my small group because it is also filled with scrumptious recipes for decadent chocolate treats like her Extravagant Chocolate Three-Layer Cake, Best Ever Chocolate Chip Cookies, and Triple Chocolate Rocky Road Brownie Pizza. It would be so much fun to make one of these treats each week to share with the women in my group as we share encouragement and hope.
About Deb Burma:

Deb Burma has a passion for sharing Christ's love through the study of God's Word. Whether she's speaking, leading women's ministry groups, or writing, her creative and engaging style touches the hearts of women and meets them in the moments of their everyday lives. Deb travels across the country and internationally as a leader and guest speaker for women's ministry retreats, conferences, and special events. She is also the author of Bible studies and retreat kits, devotion books and the Christian-living/Bible study book "Stepping Out: To a Life on the Edge", all published by Concordia Publishing House. Currently, Deb is also a women's Bible study leader and a Youth Ministry leader at Peace Lutheran Church in Columbus, Nebraska, where her husband, Cory, serves as pastor. They are blessed with three beautiful children: Chris, Courtney, and Cameron. Learn more about Deb on her blog Fragrant Offerings