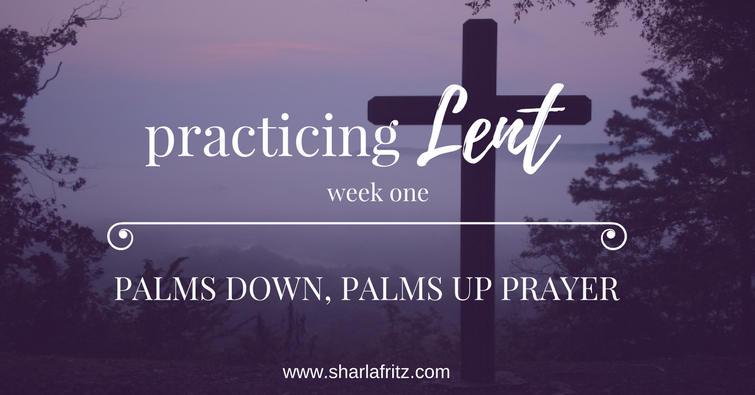 This post is part of my Practicing Lent series where we will explore Spiritual Disciplines that connect us with Jesus in His Word. If you want to find out more about Spiritual Disciplines you can look here. If you have signed up for the Practicing Lent Facebook group, click here to share your experience with others. If you would like to participate in the group, click here to request to join.
In her wildly popular book The Life-Changing Magic of Tidying Up, Marie Kondo encourages her readers to get rid of any belongings that no longer spark joy. That cardigan you loved, but is now worn and pilly? Discard it. Those shoes that took you all over town, but are now looking rather sad? Toss 'em. Kondo encourages us to keep only those things that bring joy. (Note: Kondo's book is helpful, but I cannot wholeheartedly recommend it because she also talks about treating your belongings as if they are living things.)
I admit that I need to sort through my belongings. There are clothes in my closet that I wish I had never purchased and items that are well past their prime. My books outnumber the spaces on my bookshelves and documents spill out of my filing cabinets.
But even though I should tend to my overflowing possessions, this Lenten season I want to tend to my heart. I want to take the time to sit quietly with Jesus and allow Him to point out what needs to be tossed. I want to ask: Lord, is there a sinful attitude that I've been hanging onto? Is there some anxiety or fear that I haven't let go? Am I still grasping onto self-sufficiency? Or an illusion of control over my life?
So I am using Spiritual Disciplines to guide my time in the Word. I'm using these ancient practices to spend time with my Savior. Spiritual Disciplines have been used by faithful Christians for centuries, even millennia. They are a way to focus our attention on our Savior and to receive His gifts.
Palms Down, Palms Up Prayer
One Spiritual Discipline that has helped me in the past is the Palms Down, Palms Up prayer. This prayer helps me sort out the stuff in my heart. To release what is sinful, harmful, or crippling. And to receive what is comforting and encouraging.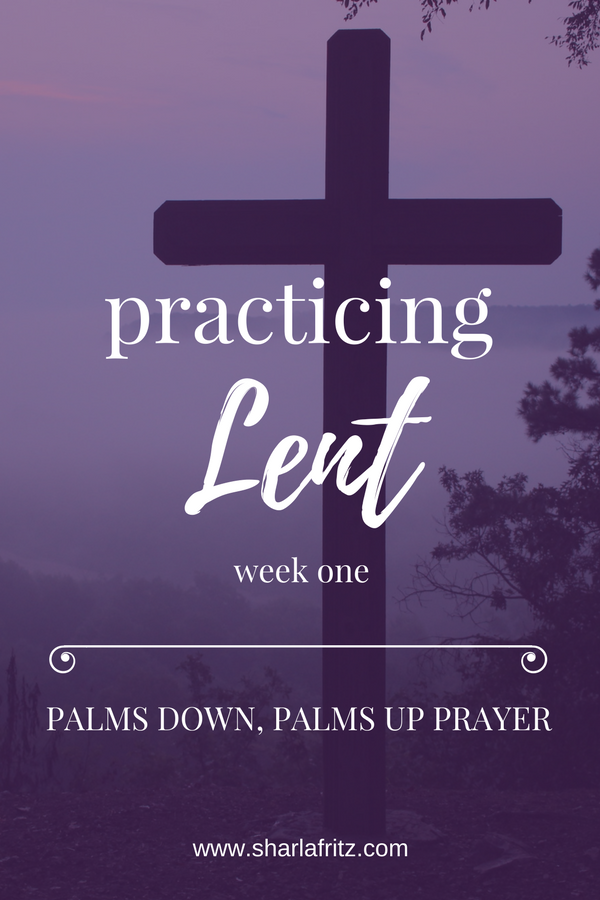 Palms Down: I begin this prayer by sitting in a comfortable chair and placing my palms down on my legs to symbolize my desire to release my concerns to God. I ask the Holy Spirit to show me what I need to let go. Is there anything blocking my relationship with Christ? What anxieties have I unconsciously been hanging onto?
My prayer might go something like: Lord, You know that I'm concerned about John's health and about our kids in China. I confess that I have not trusted You completely in these areas. I'm anxious about my work. I'm stressed out about my long to-do list. But I now release all of these concerns into Your loving hands.
Palms Up: After I have released my worries, confessed my sins, and unloaded my self-sufficiency, I turn my palms up to symbolize my desire to receive from God.
Now my prayer might be something like: Lord, I praise You for Your love for me and all those I care about. I thank You for the peace You so faithfully give–peace that passes understanding.
I invite you to try the Palms Down, Palms Up prayer. It's a simple way to come humbly before God and empty our hearts of our fears and our sins. Turn your palms down and unload the burden of guilt. Let go of anxiety. Give Him whatever is bothering you and whatever is stressing you out. Then turn your palms up to receive God's forgiveness, peace, love, truth, or rest.
Give God whatever is bothering you and receive His forgiveness, peace, love, and rest.
Click To Tweet
Let Go
Maybe, like me, you need to clean out your closets. But even more important than hiring an organizational expert to sort through our closets, is asking the Holy Spirit to sort through our hearts.
Philippians 4:6-7 says:
Do not be anxious about anything, but in everything by prayer and supplication with thanksgiving let your requests be made known to God. And the peace of God, which surpasses all understanding, will guard your hearts and your minds in Christ Jesus.
It is so reassuring that God invites us to give Him all our worries, anxieties, doubts, and fears. He is willing to hold them for us and give us His peace and love in return. And the more we allow Him to carry our bag of uncertainties, the more His peace will guard our hearts and minds from Satan's attacks.
Let go of your concerns and receive God's peace.
Next step: For the next five days, practice the Palms Down, Palms Up prayer. Click here for a resource list of Scriptures that will guide your prayers. Experience the joy that comes from unloading the burden of your fears and guilt and receiving the Savior's love.